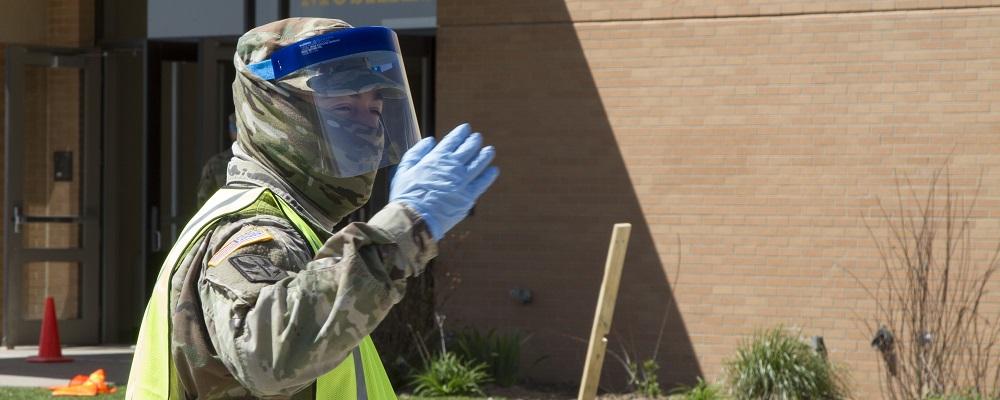 Many National Guard soldiers and airmen serving on the front lines of the coronavirus outbreak could come off their missions as soon as next week, even as leaders push for more time and funds to battle the continuing pandemic.
Adjutants general and other leaders said the authorization for federal funds through Title 32 Section 502f expires May 31.
A National Guard Bureau spokesman said "several states" have indicated a requirement for Guard forces beyond May 31. Deliberations regarding the process and considerations for extensions beyond that date are ongoing.
The current end date means leaders in many states and territories will have to begin pulling Guardsmen from their COVID-19 missions soon.
As of Monday, more than 46,500 Guardsmen were supporting the pandemic response, with 44 states, three territories and the District of Columbia approved for federal Title 32 funds, according to officials. An estimated 86% of Guardsmen are serving on federal Title 32 orders.
In Colorado, Guardsmen are set to leave missions around May 12 in order to account for a 14-day quarantine and out-processing requirements, state officials said.
Other states are expected to follow a similar timeline, even as some adjutants general, governors and elected officials push for an extension and a plan to end missions not on a date, but on progress in stopping the outbreak.
"While 45,000 National Guard women and men continue to support our state and nation battling the COVID-19 global pandemic, it is unconscionable that an arbitrary end date of May 31 has been established," said Maj. Gen. Matt Quinn, the adjutant general of Montana and president of the Adjutants General Association of the United States.
"Through my years in the military, I was taught to train to standards, not to time; although this is not training the concept remains," he said. "We should not arbitrarily pick a date for the missions across 54 states, territories and the District of Columbia to end, rather rely on our health and military experts to determine an end mission."
Guardsmen are currently serving in high-risk jobs, distributing food and medical supplies, supporting testing and undertaking other tasks amid the pandemic. They have accounted for more than three-fourths of the nation's military response.
Most Guardsmen are currently serving under federal Title 32 orders, which provides federal funds for pay and allowances but keeps Guardsmen under the command of their governors. NGAUS pushed for the use of such orders early in the pandemic then helped fight to extend the orders to allow for medical coverage of those Guardsmen.
Without Title 32, most states are believed to be unable to support significant Guard deployments.
NGB officials said Guardsmen coming off Title 32 orders are not eligible for transitional healthcare, but those serving on orders of more than 30 days can apply for TRICARE Reserve Select upon separation.
Ending federal support has caught the attention of some members of Congress.
Colorado's nine-member delegation wrote a bipartisan letter to President Trump, urging him to extend funding for the Guard past the May 31 deadline and through the end of the year.
"The Colorado National Guard has been critical to Colorado's response with their ability to support state efforts," the delegation wrote. "All of these efforts are essential to mitigating the impact of COVID-19 on Coloradans, and the need for this support is expected to persist through the end of the year. We share the governor's concern that prematurely ceasing federal funding for National Guard COVID-19 support operations will hinder Colorado's ability to respond and could contribute to a possible second wave of infection."
Other lawmakers have also pushed for extensions, including Sen. Joni Ernst, R-Iowa, who has asked Trump to grant an extension through June 30.