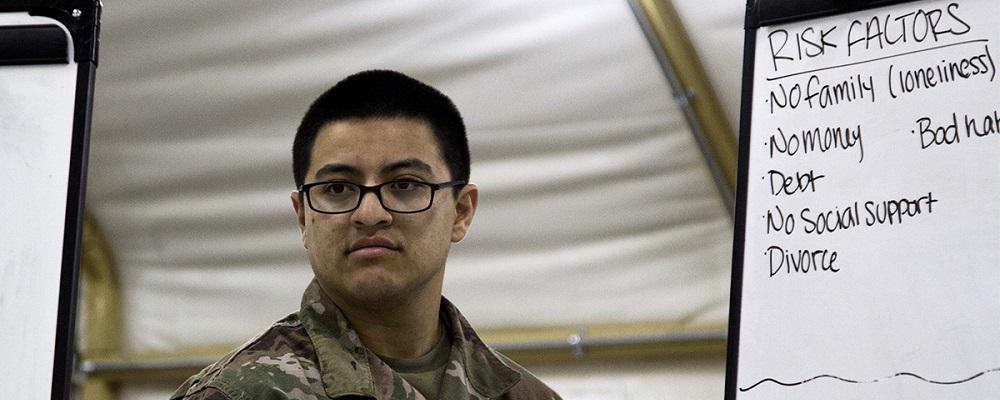 The suicide rate for National Guard soldiers and airmen fell in 2019, according to officials.
That year, 89 Guard troops died by suicide, down from 136 in 2018. Soldiers accounted for 74 of the deaths while the remaining 15 were airmen.
National Guard leaders spoke of the ongoing suicide prevention efforts last week, with their remarks coinciding with the release of the Defense Department's 2019 Annual Suicide Report.
The report and the Guard numbers are all from before the ongoing COVID-19 pandemic, which according to reports has caused a rise in some mental health cases and contributed to a rise in suicides.
According to the DoD report, 498 service members died by their own hand in 2019, which is higher than the 326 service members lost to suicide in the previous calendar year.
"Suicide is a national public health issue affecting people from all walks of life," said. Dr. Karin A. Orvis, the director of the Defense Suicide Prevention Office. "It's a growing issue that affects all ages."
According to previous reports, the Guard has higher rates of suicide than any other military component.
In response to those numbers, the National Guard Bureau has nearly doubled the programs available to Guardsmen struggling with mental health issues in the last year through its warrior Resilience and Fitness Innovation Incubator. The program provides federal funding for state initiatives and helps share successful programs nationwide.
"We currently have 22 pilots going on across 29 states," said U.S. Public Health Service Capt. Matthew Kleinman, NGB's head of the Warrior Resilience and Fitness division. "In Connecticut for example, we have clinicians — those are civilian providers — who are embedding at drill weekend."
"We've added 10 [programs] in 2020," he added.
Kleiman said many of the pilots are focused on streamlining the way a service member gets help, while others are centered on providing help through virtual connections.
"What we're hoping to do is establish a two- or three-year cycle for these pilots to test and expand the ones that seem promising," he said.
NGB officials say it is too early yet to determine what the rate for Guard suicide deaths will be for 2020. As of Oct. 1, 77 Guardsmen have taken their own lives.