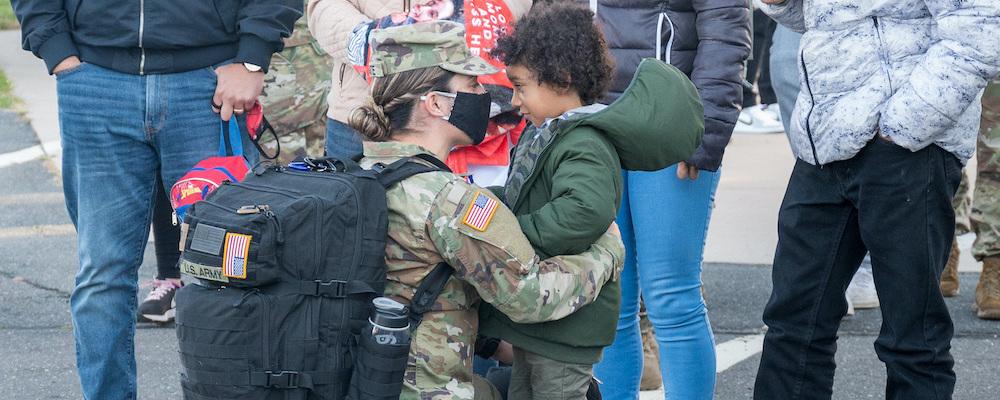 Army Guard soldiers who will be mobilized on federal orders must get a COVID-19 vaccine ahead of a June 30 deadline for other members of the force.
A policy memo obtained by Military.com states that Army Guardsmen will need to be vaccinated ahead of the Dec. 15 deadline previously set for active-duty soldiers if they will serve on federal duty.
The June 30 deadline for most soldiers of the Army Guard and Army Reserve is the latest vaccination deadline for any troops.
By comparison, active component airmen have until Nov. 2 and members of the Air Guard and Air Reserve have until Dec. 2.
Speaking at the Center for Strategic & International Studies last week, Lt. Gen. Jon Jensen, director of the Army Guard, said about 47% of the force has at least one dose of a COVID-19 vaccine.
By comparison, more than 92% of the active-component Army has at least one dose of a COVID-19 vaccine.
The Army Guard is part of thousands of communities across the nation, Jensen said, including some that view the vaccine with "varying degrees of acceptance." He said Army Guard officials will have to double down on education and leadership efforts to ensure the safety of the force.
According to Military.com, the Army Guard has set a goal to have at least 90% of the force fully vaccinated by April 2022.
The Dec. 15 deadline will apply only to troops on federal Title 10 orders, which includes Guardsmen deploying overseas or to federal missions along the U.S.-Mexico border. It can also include some schools. It will not impact Guardsmen currently serving on COVID-related missions except in cases where a state requires vaccination for those missions, such as New York.
The sooner deadline will also apply to all soldiers currently deployed, which includes more than 15,000 Army Guardsmen. And any unit deploying after the deadline will also have to be fully vaccinated.
Officials in all services have said refusal to receive the COVID-19 vaccine without an approved exemption for medical or administrative reasons, including religious accommodations, may be punishable under the Uniform Code of Military Justice, which does not apply to the Guard in a non-Title 10 status.
Army leaders said soldiers who refuse the vaccine will first be counseled by their chain of command and medical providers, with continued failure to comply possibly resulting in administrative or non-judicial punishment, to include relief of duties or discharge.
Commanders, command sergeants major, first sergeants and officers in command select list positions who refuse to be vaccinated face suspension and removal. Officers and noncommissioned officers who have been selected for command, key billet or nominative sergeant major positions will also be subject to removal from the list for those assignments should they refuse a vaccine.
Commanders will request a General Officer Memorandum of Reprimand for any soldier who refuses to be vaccinated. Such reprimands can be career ending.