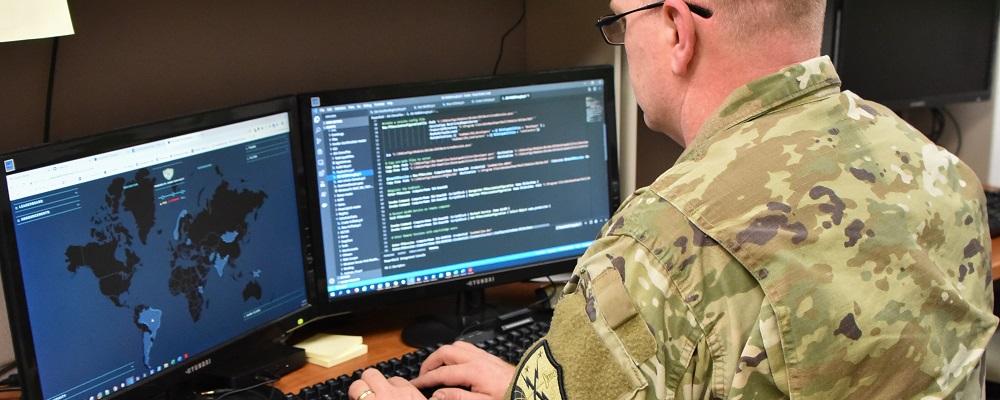 A bipartisan bill would help strengthen the National Guard's response to cyber threats.
Rep. Andy Kim, D-N.J., and Rep. Joe Wilson, R-S.C., introduced the National Guard Cybersecurity Support Act last week. If passed, it would give governors the ability to decide when and how to deploy their state's Guard to respond to cybersecurity threats against critical government programs and information systems.
NGAUS has endorsed the legislation, which was also introduced in the Senate by Sen. Maggie Hassan, D-N.H., and Sen. John Cornyn, R-Texas. Similar legislation was also introduced last fall.
Specifically, the bill modifies Title 32 of the U.S. Code, which governs the National Guard, to codify the Guard's ability to support in cybersecurity missions defending infrastructure.
Currently, Guard cyber protection teams support active-component military forces, responding to cyber threats and attacks. But those teams are deployed through the Defense Department. The lawmakers said their bill would strengthen the readiness and responsiveness of those Guard teams in states that have faced increasing cybersecurity attacks impacting agencies like departments of motor vehicles, election boards and organizations that distribute critical state aid.
"Being ready to tackle the next generation of cyber threats requires a defense that can move quickly and decisively," said Kim. "Right now, our governors can't act with the speed they need to keep our neighbors safe."
Kim said the change could be a gamechanger for states fighting back against cyberattacks.
"I know we can get this passed into law, and we're going to work together to make sure our policies match the speed of the threats we face," he said.
Kim and Wilson are both members of the House Armed Services Committee.
Wilson said the bill hits home, citing ransomware attacks in his home state of South Carolina last year.
"This legislation clarifies existing law to ensure bureaucratic red-tape never stands in the way of our National Guard responding to the interests of South Carolinians," he said.
Retired Brig. Gen. J. Roy Robinson, the NGAUS president, called the legislation a win-win and thanked Kim and Wilson for their commonsense legislation.
"National Guard cyber teams have the skills and desire to help state and local governments protect critical infrastructure from hackers. Unfortunately, outdated laws and regulations sometimes stand in the way," Robinson said. "The National Guard Cybersecurity Support Act removes those barriers. It would allow governors to use the Guard to harden critical networks. At the same time, it would provide these teams with great training."