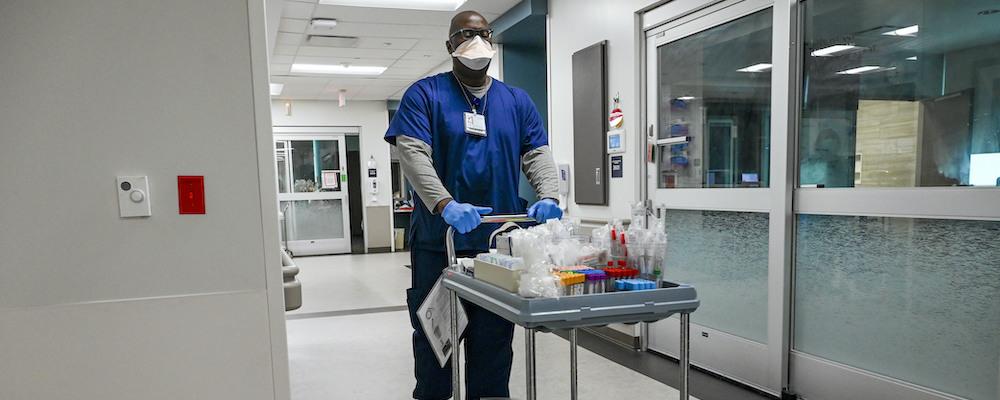 Nearly 13,000 National Guard soldiers and airmen continue to be deployed in support of COVID-19 response missions.
That's up slightly from past weeks, according to the National Guard Bureau, which counted 12,960 Guardsmen on COVID missions as of Friday.
There has been no substantial change in those missions, officials said. With Guardsmen tasked with distributing vaccines, providing logistical support and supporting hospitals in their home states.
Several states have recently returned Guardsmen to hospitals to provide logistical support for medical staff and to bolster overworked medical facilities.
In Kentucky, more than 40 members of the Kentucky Air Guard reported to Baptist Hospital East in Louisville to help stem the rising tide of critically ill COVID patients. In all, the state activated 310 Guardsmen to provide nonclinical assistance to 21 hospitals across the commonwealth in addition to 100 Guardsmen who were already supporting hospitals in four communities.
In neighboring Tennessee, the Guard expanded its support to six more hospitals late last month, expanding their reach to 13 medical facilities across the state. More than 155 Guardsmen, including medics and administrative personnel, are involved in the effort.
Georgia has also sent medical support teams, including medics and doctors, to area hospitals. While Oregon deployed airmen to work in non-clinical roles, including material handling, equipment support, COVID testing support, laundry and custodial services.
"I'm a Kentuckian, and this is about Kentuckians helping Kentuckians," said Lt. Col. Bryan Keating, mission commander for the Kentucky National Guard. "We're all family, right? And we're trying to take care of each other. As members of the Air National Guard, obviously we've deployed overseas multiple times, and we're helping the world. But when its closer to home like this, it really feels good to help our own brothers and sisters."
Oregon officials have said as many as 1,500 Guardsmen could be called on to help their state due to an increase in COVID-19 cases and staff shortages.
"Our airmen are highly capable, skilled, educated and multifaceted individuals," said Col. Micah Lambert, vice commander of the 173rd Fighter Wing. "We are teachers, private business owners, mechanics, students, commercial pilots, executives. We are in the community and we are your neighbors. We are citizen-airmen and ready to serve when called."