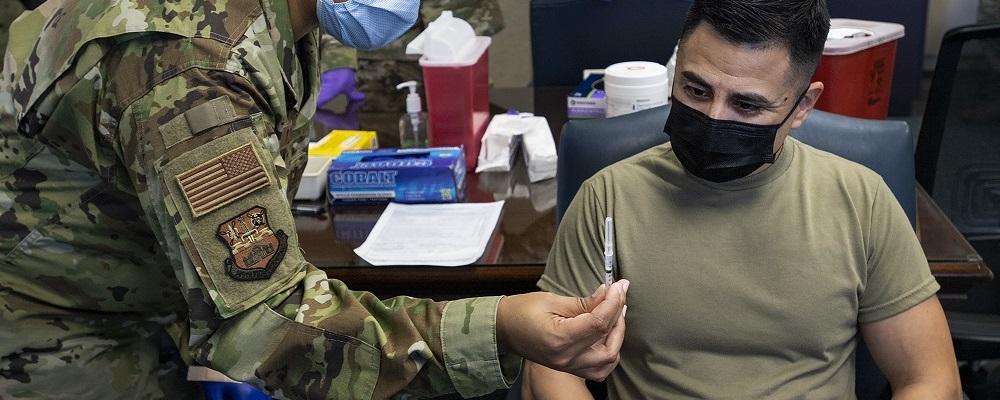 Military leaders continue to push for service members to receive the COVID-19 vaccine, with Army officials now saying it is on pace to meet its goals.
The active-component Army should reach 80% of the force vaccinated by July 4, according to Lt. Gen. Scott Dingle, the Army surgeon general.
The National Guard, which has helped vaccinate more than 6 million citizens, had fully vaccinated about 20% of the force as of last week, with tens of thousands of more soldiers and airmen having received the first of two needed vaccine doses.
The Air Guard had vaccinated nearly 32,000 airmen as of Wednesday, or nearly 30% of the force. The Army Guard had vaccinated more than 52,000 soldiers, or just under 16% of the force.
Dingle, who spoke during an online event organized by the Association of the U.S. Army, said the service was in a "full-court press" to reach its vaccination goal.
He noted that supply shortages impacted the effort early on, but that current production and distribution increases would allow the service to have four out of five soldiers vaccinated in the next three months.
Guard forces have played an integral role in the COVID-19 pandemic response for more than a year, with as many as almost 50,000 Guardsmen on pandemic-related duty last spring.
More than 26,700 Guardsmen have been diagnosed with COVID-19 during that time, with more than 2,800 Guardsmen still battling the virus as of last week. More than 23,900 have fully recovered while eight Guardsmen have died and another 87 have been hospitalized.
Guard officials have said they are working to address concerns and educate Guard soldiers and airmen about the benefits of receiving a COVID-19 vaccine, while working to ensure that every Guardsman who wants a shot is able to receive one.