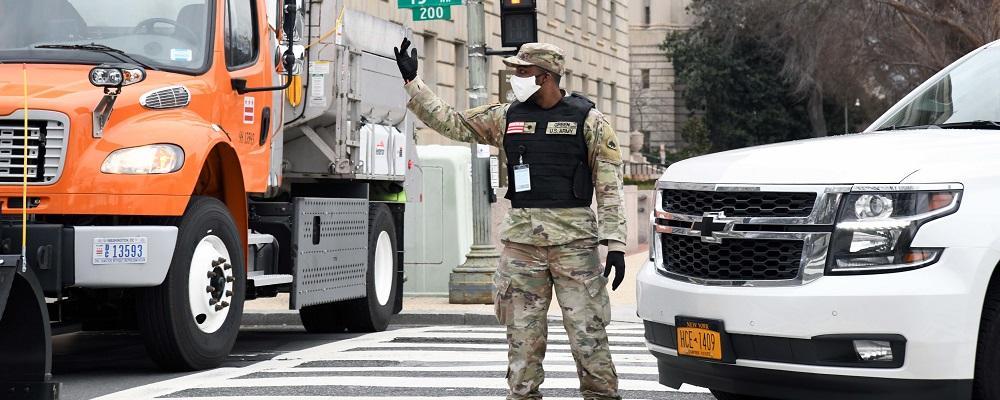 There were veterans, including former Guardsmen, on both sides of last week's unprecedented attack on Congress.
And while lawmakers are now pressing the government to honor some, like former New Jersey Air Guardsman Brian Sicknick, a U.S. Capitol Police officer who died of injuries sustained in the attack, they are also pushing the Defense Department and others to root out and punish service members and military retirees who took part in the deadly riot.
Sicknick, a 12-year veteran with multiple deployment to the Middle East, was the sixth Capitol Police officer ever to die in the line of duty. Rep. Elissa Slotkin, D-Mich., has asked top military officials to allow him to be buried at Arlington National Cemetery with special honors.
Ashli Babbitt, a protestor who joined the riots inside the Capitol and who was fatally shot by police as she attempted to press further into the building, was also an Air Guard veteran, having served with the D.C. Guard.
Following the attacks, members of Congress have pressed for investigations and accountability over allegations that current and former service members were among the rioters. Others have questioned a delay in deploying additional Guardsmen to help protect the building and the officials inside.
Sen. Tammy Duckworth, D-Ill., a retired Illinois Army National Guard officer, has requested investigations into the participation of members who remain subject to the Uniform Code of Military Justice.
She said the presence of current or former service members was "a disgraceful insult to the vast majority of service members who honorably serve our nation in accordance with the core values of their respective services."
Multiple reports have placed current and former service members on the Capitol grounds or inside the building during the bloody riot, which has been called an insurrection and domestic terror attack.
In a letter to acting Defense Secretary Christopher Miller, a number of House Democrats called for participants to face punishment through the UCMJ, even if that means recalling a retired service member to active duty to face charges.
"Any current or former military members who may have participated have disgraced themselves and committed serious crimes against the people of the United States," Rep. Ruben Gallego, D-Ariz., and Rep. Sara Jacobs, D-Calif., wrote. "Any such individuals should have the book thrown at them for violating their oaths and duty to the nation."
Both Republicans and Democrats have condemned the attack. They have largely praised the Capitol Police, Secret Service, National Guard and others who responded to the attacks, but have questioned how prepared officials were to hold back the rioters and whether top government officials delayed responses to protect the Capitol.