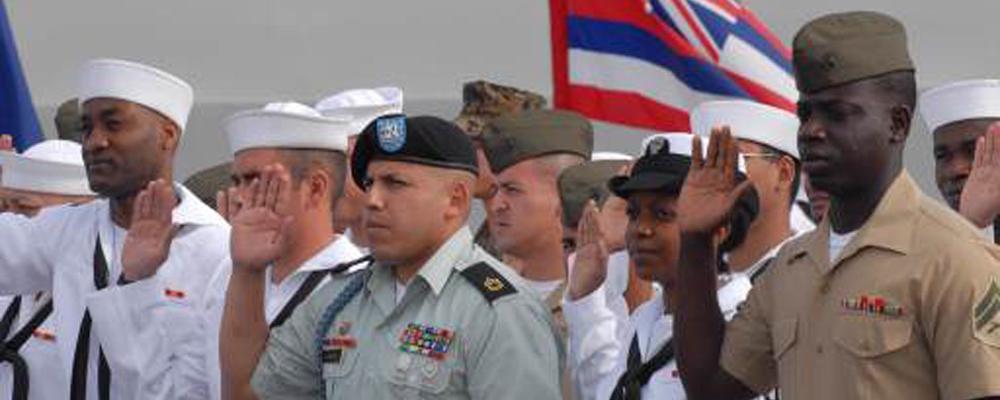 Fewer U.S. troops who are not American citizens are applying for naturalization, the U.S. Citizenship and Immigration Services reported recently.
The number dropped in the first three months of this year—the second quarter of the fiscal year—to 661 from 1,069 in the previous three months. Approvals also fell, from 745 to 412 in the same time period.
Military.com, which reported on the declines, said CIS officials speaking on background said the cause was the end of Military Accessions Vital to National Interest [MAVNI] program in 2016. That program recruited legal immigrants into the military mainly for their language or medical skills.
Also, the Defense Department changed its policy for noncitizen troops. Those who enlisted after Oct. 13, 2017, face more extensive background checks and must serve 180 days of honorable service before they can file for naturalization, Military.com reported.
The number of applicants for naturalization fell from 3,132 in the final quarter of fiscal 2017 to 1,069 in the first quarter of fiscal 2018. In the same period, the number of approvals for naturalization fell from 2,123 to 755.
Still, CIS says it approves 80 percent of applications for citizenship. Jonathan Withington, the CIS spokesman, said in a statement, "Honorable military service remains a strong and viable path to U.S. citizenship."
CIS says 125,452 military members became U.S. citizens through the naturalization process from Oct. 1, 2001, to Sept. 30, 2017.