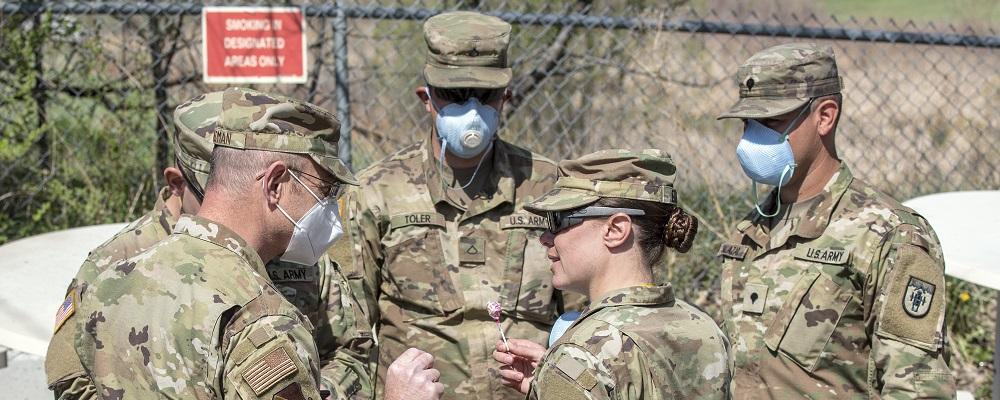 WASHINGTON (May 22, 2020) — The voice of nearly 45,000 current and former National Guard officers is throwing its support behind a bipartisan letter from Congress advocating for more support for Guardsmen serving on coronavirus-related missions across the nation.     
The letter, addressed to President Donald Trump, Defense Secretary Mark Esper and FEMA Administrator Peter Gaynor, was sent today. It was signed by 125 members of Congress, including 95 Democrats, 29 Republicans and an Independent.
"Guard soldiers and airmen on the front lines of this fight want to complete their missions, but this can only happen with the support of the federal government," said retired Brig. Gen. J. Roy Robinson, the NGAUS president. "I know our brave men and women in uniform greatly appreciate this letter, which reflects significant support from both sides of the aisle in both chambers of Congress."   
A copy of the letter is available here.
The signatories raise a number of issues impacting Guard personnel currently deployed in support of the fight against COVID-19, which has been the worst public health emergency in more than century.
The senators and representatives who signed the letter are urging the administration to act to keep Guardsmen in a federal status, provide flexibility for leave, ensure transitional health care and enable members to accrue education and retirement benefits.
Specifically, the letter asks the administration to:
•    Keep all Guardsmen on federal Title 32 status rather than transitioning them to state active duty orders early next month. That will ensure access to health care and bring an end to bouts of uncertainty over Title 32 statuses that have plagued the response thus far.
•    Continue to provide National Guard members with flexibility in how they may utilize leave accrued during the COVID-19 response, including the ability to sell back unused leave without penalty or roll over accrued leave to another activated status.
•    Ensure all Guardsmen activated in support of COVID-19 are provided Transition Assistance Management Program benefits for 180 days after coming off orders, similar to their Reserve counterparts; and  
•    Ensure Guardsmen are not being inappropriately prevented from accessing GI Bill and retirement benefits earned by their service.
"Our national success in flattening the curve will not be possible without the contributions of the National Guard," the letter states. "We believe it is critical to ensure that all National Guard personnel are taken care of during this crisis and after, recognizing that the threat of COVID-19 will not immediately go away and the National Guard is likely to be called on again in the future.
"We are proud of the incredible contributions of the National Guard," the conclusion of the letter reads. "They have been a critical team member in the nation's fight against COVID-19. We welcome your support in ensuring they are kept safe, healthy, and receive the benefits they deserve."
The letter was an initiative of Sen. Cory Gardner, R-Colo., Sen. Michael Bennet, D-Colo., Rep. Jason Crow, D-Colo., and Rep. Doug. Lamborn, R-Colo.
# # #
Reporters, Editors & Producers: Retired Brig. Gen. Roy Robinson is available for interviews or to appear as a subject matter expert on issues related to the National Guard. Contact John Goheen at 202-408-5882 to schedule an interview or appearance.
About NGAUS: The association includes more than 45,000 current or former Guard officers. It was created in 1878 to provide unified National Guard representation in Washington. In their first productive meeting after Reconstruction, militia officers from the North and South formed the association with the goal of obtaining better equipment and training by educating Congress on Guard requirements. Today, 142 years later, NGAUS has the same mission.