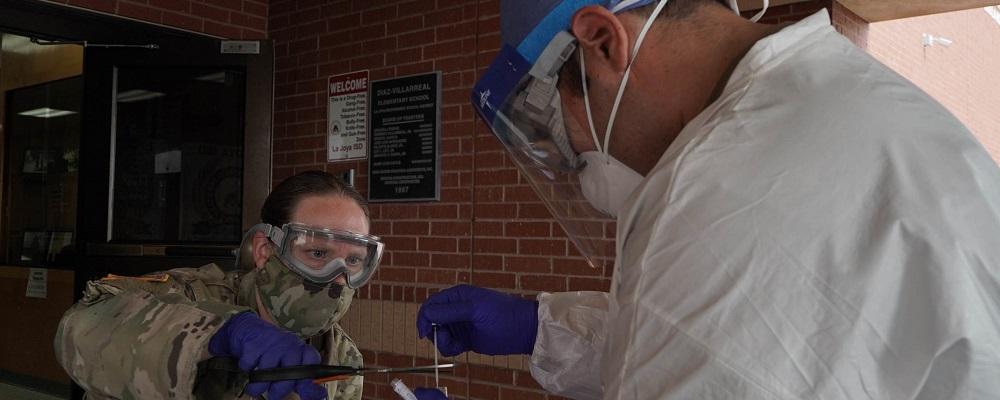 Guard soldiers and airmen serving in coronavirus-related missions could get a boost in pay under legislation that will be introduced this week by Sen. Joni Ernst, R-Iowa.
The bill, if approved, would extend hazard duty pay to troops on the front lines of the COVID-19 pandemic. As of Monday, more than 46,500 Guardsmen were serving in coronavirus-related missions.
According to a press release from her office, the legislation would also include back pay for deployments dating back to the start of March.
Ernst is a retired lieutenant colonel who served in the Iowa National Guard.
"Whether it's delivering personal protective equipment, food, or medical supplies, our National Guardsmen and women have answered the call to help during COVID-19," Ernst said. "I could not be more proud of their tireless and selfless efforts. That's why I believe Congress should take this step to recognize the hazardous work they're doing during this pandemic and provide them the pay they deserve."
NGAUS strongly endorses the bill, said retired Brig. Gen. J. Roy Robinson, the association president.
"National Guard soldiers and airmen are on the frontlines with our brave doctors, nurses, and first responders and deserve this critical recognition and financial support as they risk exposure to this virus every day," he said.
Guardsmen have made up the vast majority of the military response to the ongoing pandemic.
Hazardous duty pay could total at least $150 a month, depending on how lawmakers define the deployments under existing Pentagon rules.
Thousands of service members have tested positive for COVID-19 since the pandemic began. That includes at least 884 Guardsmen.
Guardsmen have supported the response since its earliest days, staffing testing sites, constructing alternate care facilities, assisting state agencies, providing communication capabilities and delivering needed food and supplies.