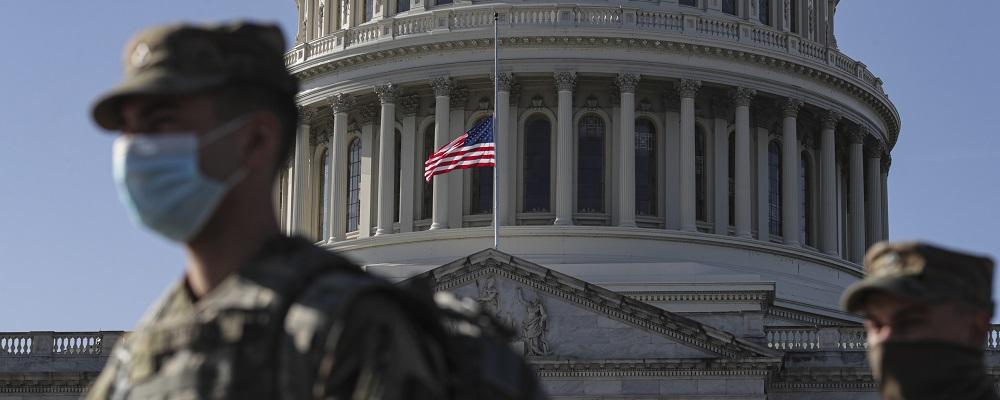 More than 25,000 Guardsmen are expected to be on the ground in Washington, D.C., for Wednesday's presidential inauguration.
The soldiers and airmen come from all 50 states, three territories and the District of Columbia. They are among more than 63,000 Guardsmen currently supporting homeland operations across the nation. That includes more than 6,500 Guardsmen in 30 states who have been activated in the event of violence at their state capitols.
The beefy Guard mission follows a deadly riot at the U.S. Capitol earlier this month. The melee was led by supporters of President Trump and officials fear those same groups could attempt to disrupt the inauguration of President-elect Joe Biden.
Thousands of Guardsmen have been in the nation's capital since the riot, staffing checkpoints and standing guard outside government facilities.
The Guardsmen in D.C. have been authorized to conduct security, communication and logistical missions in support of federal and D.C. authorities through the inauguration and beyond.
"I have visited with these Guard men and women every night, and they understand the importance of this mission," said Gen. Daniel Hokanson, the chief of the National Guard Bureau. "They are also proven, prepared and proud to do their part to ensure a peaceful and safe inauguration of our 46th commander in chief."
Some Guardsmen are being sworn in as special police by civilian law enforcement, including the U.S. Capitol Police, U.S. Park Police and the D.C. Metropolitan Police Department.
Those Guardsmen will be tasked with protecting members of Congress and other congressional personnel and securing the grounds and property of the U.S. Capitol.
Some have expressed concern that the deployed Guardsmen could include some who share some of the extremist views held by some of the rioters.
Officials have said the FBI is working to vet all service members supporting the inauguration and additional training is being provided to Guardsmen so they can identify and report known or suspected extremist behavior within the ranks.
"If there's any indication that any of our soldiers or airmen are expressing things that are extremist views, it's either handed over to law enforcement or dealt with the chain of command immediately," Hokanson said.