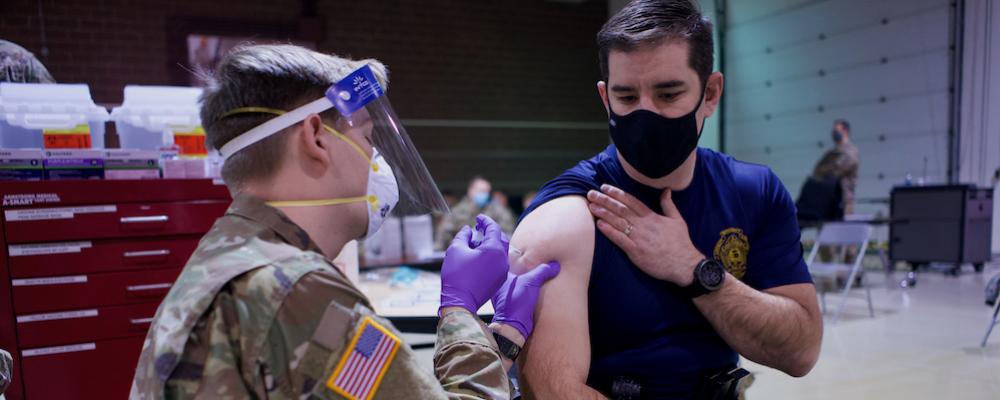 Alaska has joined the Texas lawsuit challenging the Defense Department's COVID-19 vaccine mandate.
The decision was announced by Alaska Gov. Mike Dunleavy, a Republican. He and Texas Gov. Greg Abbott, also a Republican, are arguing the mandate undermines their authority over their states' National Guard, according to The Hill.
The lawsuit is the latest legal challenge to the mandate, which began when Oklahoma Guard leaders announced they would openly disregard the mandate last year.
Officials said they believed the Pentagon lacked the authority to impose a vaccine mandate while Guardsmen were not on federal orders. But after a federal judge sided with the Pentagon, Oklahoma announced it would not allow unvaccinated airmen to attend drill without an approved or pending exemption.
The deadline for members of the Air Guard to be vaccinated has passed, but Army Guard soldiers have until June 30 in most states.
At least four other states have asked Defense Secretary Lloyd J. Austin II to reconsider the mandate. They include Iowa, Mississippi, Nebraska and Wyoming.
Pentagon leaders have maintained they have the authority to implement the mandate regardless of the status of Guardsmen.
The lawsuit that was filed in federal court in Texas, however, argues the mandate is an unconstitutional attempt to force Texas and Alaska "to submit to federal orders and impose federally dictated disciplinary action on their National Guardsmen."
"This is not a case demanding a position of pro- or anti-vaccine, nor is it a case that challenges any aspect of the federal government's authority over National Guardsmen once that federal authority has been properly established," the complaint reads.
According to the lawsuit, more than 220 members of the Texas Air National Guard and about 40% of the Texas Army National Guard are refusing the vaccine. And 8% of the Alaska Air and Army Guards are not vaccinated, with 90% of those requesting exemptions that have not been granted.
Last week, Austin sent letters to seven governors reaffirming the need for members of their states' Guard to get the vaccine or lose their Guard status.
In nearly identical letters, he told the governors that the virus "takes our service members out of the fight, temporarily or permanently, and jeopardizes our ability to meet mission requirements," according to copies obtained Monday by The Associated Press.
Two of the letters — to Alaska and Texas state leaders — noted their ongoing lawsuit, which Austin said limited his ability to comment further on their concerns.
The other five recipients were governors from Idaho, Iowa, Mississippi, Nebraska and Wyoming.