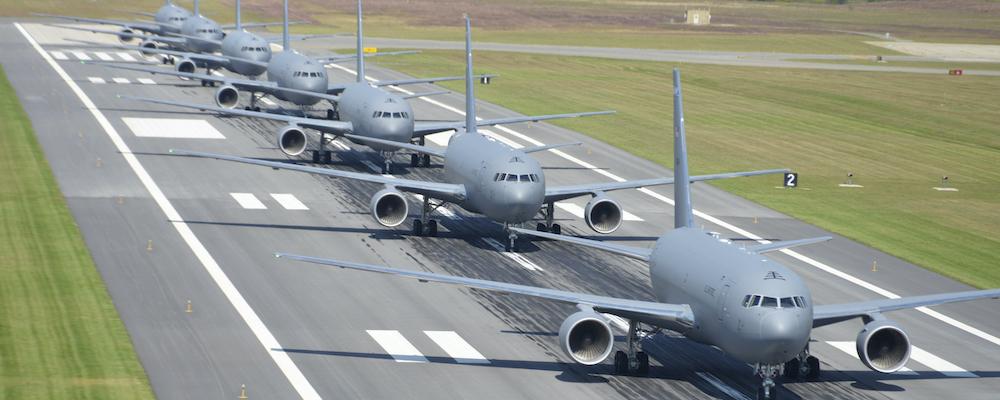 Amid Air Force efforts to modernize its flying fleet, several states are working to either ensure the safety of their legacy aircraft missions or secure future replacement aircraft.
At least 16 Air Guard air-refueling wing, all currently operating the aging KC-135 Stratotanker, are in the running to receive brand-new KC-46 tankers.
The KC-46 Pegasus is one of the newest planes in the Air Force fleet, however, it has  been plagued by numerous production issues as well problems with its rear vision system, which has limited its role operations.
Air Force leaders last month announced that MacDill Air Force Base, Florida, will be next new main operating base for the KC-46. Current bases operating the new tanker include McConnell Air Force Base in Kansas, Joint Base McGuire-Dix-Lakehurst in New Jersey, Seymour Johnson Air Force Base in North Carolina and Pease Air National Guard Base in New Hampshire.
One Guard unit has already made a public plea for the new tankers.
In Maine, the commander of the 101st Air Refueling Wing said the KC-46 brings "a whole new realm of capabilities for air refueling and supporting national defense," according to local media reports.
"The next two lots of KC-46 to be allocated will go to the Air National Guard," he said. "Those aircraft won't arrive until 2027 or 2028, but that decision is being made this calendar year. We will compete with another 15 KC-135 units here in the Guard for selection."
But at least one state has secured a future going forward with the KC-135.
Last month, Air Force officials announced the Utah Air Guard's 151st Air Refueling Wing was selected to serve as the KC-135 Test Detachment for the Air National Guard and Air Force Reserve Command Test Center, which is based in Arizona.
The selection, announced by Lt. Gen. Michael A. Loh, the Air Guard director, formalizes an existing arrangement between Utah and the AATC that focuses on modernizing the KC-135, a version of which was first introduced in 1957.
With the Air Force retiring the KC-10 and bringing the KC-46 online, officials said the force will need a modernized fleet of upgraded KC-135s in order to project global power in the years to come.
"Modernizing the KC-135 tanker fleet with new capabilities and cutting-edge technology increases combat effectiveness and readiness," Loh said. "New capabilities require the skill and experience of seasoned ANG personnel, which take years to achieve. The Utah Air National Guard and AATC have talented and proven Guard warriors at the forefront of the KC-135 modernization efforts."
Other Guard flying wings are also looking at potential future change, with the Air Force pushing to divest legacy aircraft such as the C-130H.
In Minnesota, senior leaders including Gov. Tim Walz, a retired Army Guardsman, and the state's entire congressional delegation, have asked Air Force leaders to preserve the state's C-130 mission.
According to reports, the Pentagon is considering converting the state's 133rd Airlift Wing to a cyberspace warfare unit as it looks to cut 45 C-130s from the 300 currently in the Air Force fleet.
Guard leaders, including Gen. Daniel R. Hokanson, the National Guard Bureau chief, have previously lobbied for those C-130 cuts to come from outside the Guard, pointing to the numerous domestic missions that those Guard C-130 wings support.
In Minnesota, officials warned that a loss of planes would cost the state jobs.
"We've been in C-130s for 50 years and we are really, really good at maintaining these airplanes, flying these planes and taking care of the mission," Col. James Cleet, the 133rd commander, told television station KARE. "There is nothing out there that can do what this airplane does. We do a really good job at the mission, and we'll keep doing it as long as the Air Force lets us have these airplanes."