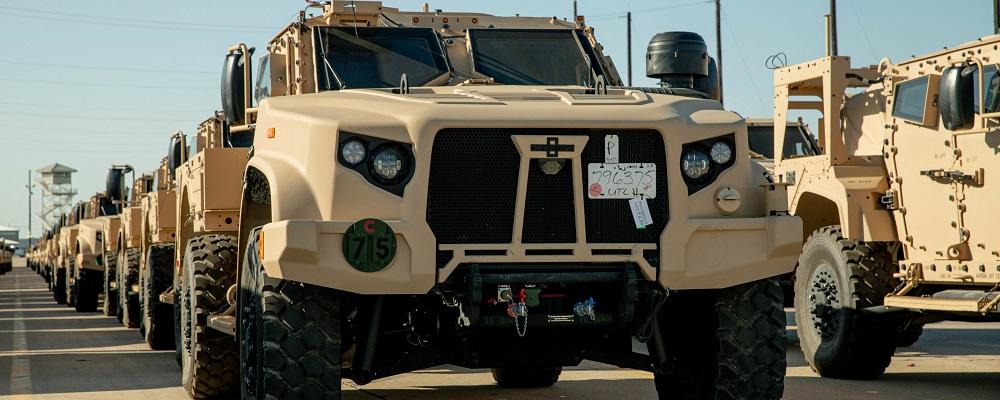 Air Force leaders plan to trade in much of the service's fleet of Humvees in favor of the controversial Joint Light Tactical Vehicle.
The JLTV was developed for the Army, Marine Corps and Special Operations Command, but critics contend the vehicle was developed with the wars in Iraq and Afghanistan in mind — not future fights against near-peer competitors.
The Army in recent years has scaled back its order of JLTVs, even as the service begins to field the armored vehicles once billed as the replacement for the High Mobility Multipurpose Wheeled Vehicle, better known as the Humvee.
The Air Force appears ready to pick up at least some of the production Army leaders turned down, according to officials. The service's Agile Combat Support Directorate plans to acquire and field approximately 3,230 JLTVs through the existing Army contract with manufacturer Oshkosh Corporation.
Air Force leaders said the JLTV is a major upgrade to the Humvees currently in the field.
"The JLTV is much more capable than the Humvee," said Al Bello, the chief of the Support Equipment & Vehicles Division's Mobility and Vehicle Branch, which is overseeing the replacement effort. "Besides the technological advances, the ride and comfort of the vehicle is so much better, especially when you are going over uneven terrain.
"A ride in a Humvee can be very jarring, but this [JLTV] has an independent suspension, increased power with General Motors power and drivetrains, and overall is just a better vehicle due to evolving technology," he said.
The Air Force will replace its fleet of up-armored Humvees first. They plan to acquire three JLTV variants, including a general purpose model, a utility vehicle and a heavy gun carrier vehicle.
Leaders cited security forces, tactical air control party, special tactics and explosive ordnance disposal units as among those who would receive the new vehicles.
The first Air Force JLTVs will come off the production line in January 2021, officials said. They will be fielded to units starting around September 2021.
"This is a long-term program, and we'll be buying [JLTVs] through possibly 2045," Bello said. "There are a lot of Humvees out there that are still in good shape. We'll replace approximately 125-150 per year through attrition."