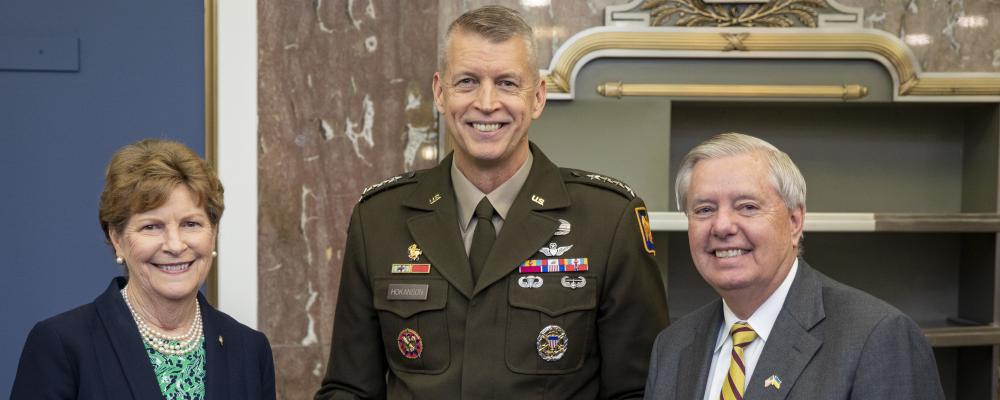 The Senate formally recognized 30 years of the National Guard's State Partnership Program last week.
Sens. Jeanne Shaheen, D-N.H., and Lindsey Graham, R-S.C., the co-chairs of the Senate National Guard Caucus, presented Gen. Daniel R. Hokanson, the chief of the National Guard Bureau, with an official copy of Senate Resolution 308 — which recognizes the SPP's 30th anniversary — during a Sept. 28 event on Capitol Hill.
"I can't thank you enough for your support," Hokanson, the Guard's top officer, told the senators. "This program would not exist and have the great impact it has globally without the Senate's support."
The SPP began in 1993 after the Soviet Union collapsed. As former Soviet states emerged from behind the Iron Curtain, these nations looked to reform their militaries and move away from a communist system toward democracy and civilian control of their armed forces.
The Guard's legacy as state militias may have appeared less provocative to Russia; its dual missions serving as the Army and Air Force's combat reserve while posturing to respond to disasters at home also made the Guard the clear choice to lead SPP engagements.
The SPP started with 13 former Soviet states, many of which have since joined NATO.
"This program has expanded in ways that have been so beneficial on both sides," Shaheen said.
During her remarks, Shaheen asked the representatives from the SPP partner nations present to introduce themselves, say where they're from and who their state partner is.
Latvia's defense attaché proudly announced: "Major General Andis Dilāns, Latvia, the first ever who signed a State Partnership Program with Michigan."
While the SPP was born in the Baltics, the program now includes 100 nations on every continent but Antarctica, all linked with the Guard of every state, territory and the District of Columbia in the U.S.
According to Hokanson, the SPP now enables between a quarter and a third of U.S. security cooperation engagements — with just 1% of the security cooperation budget. This ratio makes the SPP one of the best — and most valuable — security cooperation programs in the world.
Hokanson and other Guard leaders have said they want to selectively add 30 or more partner nations to the SPP in the next decade. Recently, Finland and Sweden have also expressed interest in joining the program.
Interest from nations like these validates the SPP model, Hokanson argued, particularly amid the current conflict in Ukraine.
"Our partnerships that we're here to highlight today are just part of the evolution of the National Guard, especially looking at our relationship with Ukraine and not just the importance of it now, but over the past 30 years," Hokanson said of the California Guard's SPP partnership with Ukraine — which is one of the program's charter associations.
"Our National Defense Strategy is clear: mutually beneficial alliances and partnerships — like the SPP — are an enduring strength," he concluded.
— By Sgt. 1st Class Zach Sheely, National Guard Bureau