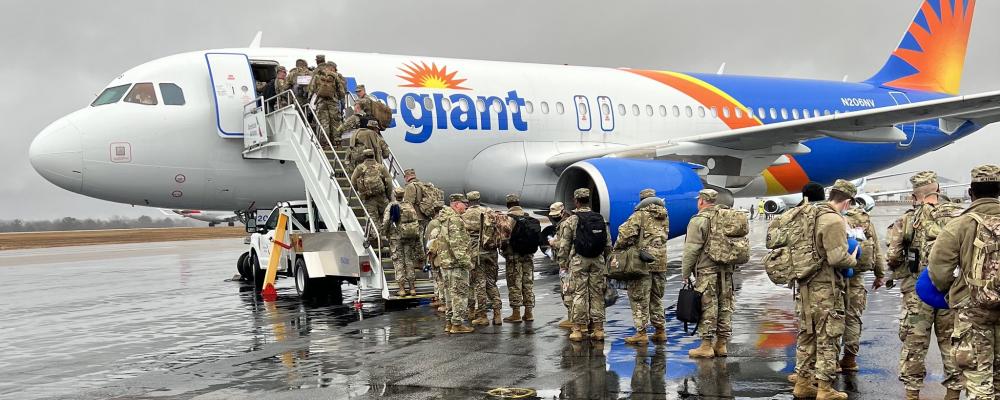 The National Guard Bureau chief says the Ukraine conflict could prompt more Guard deployments to Europe.
Gen. Daniel R. Hokanson said about 2,000 Guard personnel are currently in Europe.
"We are working very closely with the Army and the Air Force to identify, if there's going to be rotational plans, where the Guard will fit in," he said in Washington, D.C., last week.
"The best I think we can ask for is heads up so we can let the units know and notify them, so they'll be ready to go whenever they're asked to go," the Joint Chiefs of Staff member added.
Hokanson discussed Russia's invasion of Ukraine at the Foundation for Defense of Democracies, a nonpartisan nonprofit researching foreign policy and national security. He said adjutants general are willing to deploy more Guardsmen if needed.
"I think the message I got from every adjutant general when they looked at this was, 'We are all in,'" he said of his presentation at the Adjutants General Association of the United States meeting earlier this month in Arlington, Virginia. 
"It's so they can identify those units as soon as possible," Hokanson added. "Like we always have, we'll fill whatever missions they give us."
Hokanson noted most Guard troops were in Europe before Russia entered Ukraine in February.
He suggested Russia's actions could change U.S. European Command's priorities.
"We always try and think ahead," Hokanson said. "But, as always, we don't want to surprise anybody."
U.S. military strength in Europe has grown more important as fighting between Ukraine and Russia looks increasingly prolonged. Many Eastern European nations fear Russia may threaten their borders next if left unchecked.
Last week, a Pentagon spokesman told Military Times adding Guard and Reserve deployments aren't part of the Pentagon's current talks on European force posture.
But Defense Secretary Lloyd J. Austin II routinely examines posture levels, and he extended thousands of deployments in late March.
Pentagon spokesman John Kirby told Military Times last week Austin had extended deployments for the Army's 82nd Airborne Division and XVIII Airborne Corps and the Navy's USS Truman carrier strike group.
Kirby added no plans currently exist for replacing these rotations and returning them home.
Unplanned deployments typically last 90 days, so Austin's move sparked speculation about how the Pentagon would handle exiting personnel.
On April 5, Gen. Mark A. Milley, the chairman of the Joint Chiefs of Staff, suggested building permanent bases in Eastern Europe manned with rotating forces.
Rotating forces lets the military maintain permanent bases without paying for troops' families. It also increases Guard usage.
Hokanson said he senses many Guard personnel would eagerly serve abroad.
"Frankly, that's the expectation today," he said. "Our Guardsmen come in expecting to go somewhere."