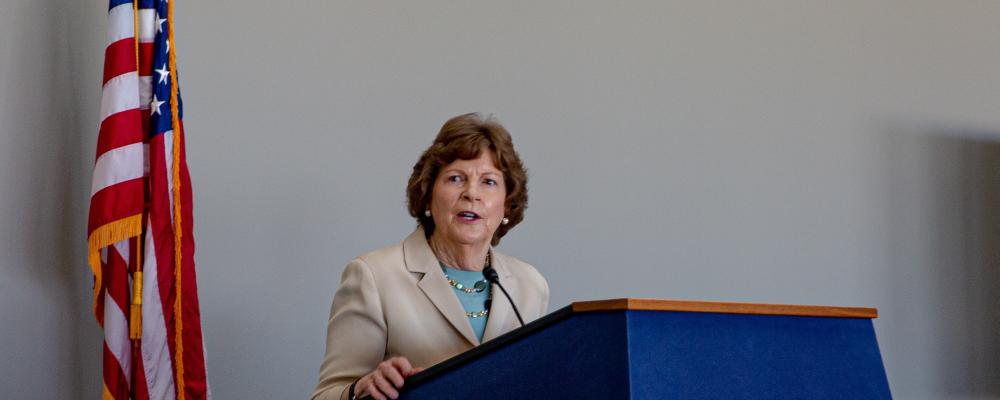 National Guard leaders used the Guard's annual birthday celebration on Capitol Hill last Wednesday evening to honor the Senate National Guard Caucus's retiring co-chair and introduce his successor.
Sen. Patrick Leahy, D-Vt., who plans on leaving office once 2022 ends, has been the Senate Guard Caucus's co-chair since 1999. 
Leahy and his Republican counterparts — first Sen. Kit Bond from Missouri and then Sen. Lindsey Graham of South Carolina — have been instrumental in the Guard receiving better equipment, training and benefits during the last two decades. 
Arguably, the group's biggest accomplishment was elevating the chief of the National Guard Bureau to the Joint Chiefs of Staff as part of the fiscal 2012 National Defense Authorization Act.
During the Guard birthday event, Leahy announced he will turn the post over next year to Sen. Jeanne Shaheen, D-N.H., a former New Hampshire governor now serving in her third Senate term.
Shaheen sits on the Senate Armed Services Committee and the Senate Appropriations Defense Subcommittee. 
"She's someone who shares my love of the service when it comes to the Guard," said Leahy, who mentioned the importance of Shaheen's committee assignments on defense matters. 
"She's not going to be a bad person to be on your side advocating," Leahy added.
Retired Brig. Gen. J. Roy Robinson, the NGAUS president, agreed.
"Senator Leahy's contributions to the National Guard have forever changed the force and improved the lives of every soldier and airman in it," he said. "He leaves big shoes to fill."
"But Sen. Shaheen knows the Guard like only a former governor can," Robinson added.
"She also brings the perspectives of a member of two critical committees. We look forward to working with her."
Shaheen told attendees at the Guard birthday event how serving as New Hampshire's governor from 1997 to 2003 shaped her view of the Guard. 
"You are there to protect our states, our homes," Shaheen said. "You're there when we need you overseas. You're there whenever you're called."
After reaching the Guard birthday event, Graham told attendees he also looks forward to working with Shaheen.
"Senator Leahy has had a passion for your cause," he said. "Jeanne Shaheen is in that mold."
While Leahy's announcement provided the evening's main news, the Vermont Democrat served as its focus.
Gen. Daniel R. Hokanson, the NGB chief, presented Leahy with the Minuteman Award, the bureau's highest honor. 
Leahy was additionally made an honorary adjutant general by Maj. Gen. Daryl L. Bohac of Nebraska, who is the president of the Adjutants General Association of the United States.
In 2003, NGAUS gave Leahy the Harry S. Truman Award, the association's highest honor.
Leahy called supporting the Guard "one of the best things of being in the Senate."
"This country needs you," he said. "I've seen the soldiers, the airmen, all come together when needed and do it in such a way that partisanship doesn't exist there."
— By Mark Hensch