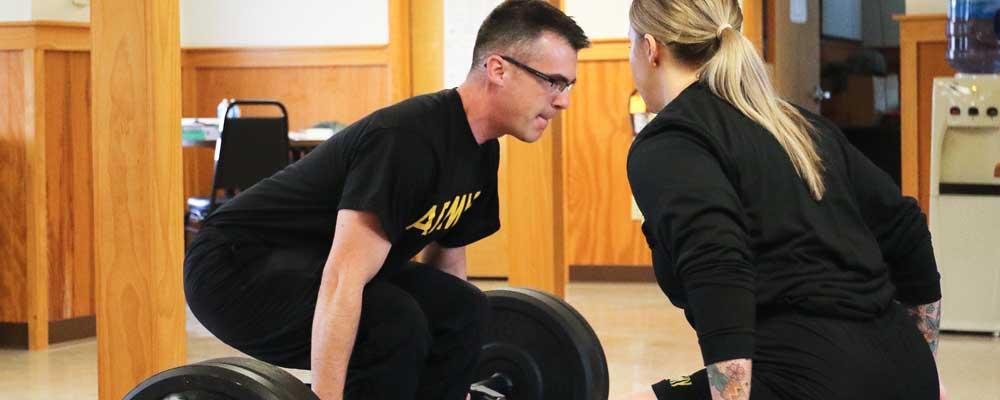 The Army will begin full implementation of its new fitness test April 1, but with several changes.  
The revised Army Combat Fitness Test now includes performance-normed scoring standards, scaled to age and gender. 
Additional changes include the elimination of the leg tuck, thus making the plank the only core-strength event, and adding the 2.5-mile walk as an alternate aerobic event for those on medical profiles. 
The new scoring standards were developed by using the data from the nearly 630,000 ACFT scores, historic performance rates from the Army Physical Fitness Test and scoring scales from other branches of the U.S. military for the plank event.
The changes come following an independent review of the test by the RAND Corporation, a Washington D.C.-based think tank, which Congress ordered in the fiscal 2021 defense policy bill.
For example, RAND concluded the leg tuck did not correctly measure core strength in all soldiers, as it relied on an individual's upper body strength as well. Instead, the plank exercise provides all soldiers a similar testing experience and allows the service to accurately assess all soldiers' core strength, Army officials said.
They also now say the test is a "general physical fitness assessment" not intended to predict success on the service's Warrior Tasks and Battle Drills. RAND challenged the validity of data from the Army's 2019 tests at Fort Riley, Kansas, that the service had said proved a link to battlefield success.
The ACFT will consist of six events: maximum dead lift, standing power throw, hand-release push up, sprint/drag/carry, plank and the 2-mile run. The revised scoring tables for each event still require a minimum of 60-points to earn a passing score. 
The updated scoring chart can be found at www.army.mil/acft.
Soldiers will start taking diagnostic tests April 1 and active-component Army and Active Guard Reserve soldiers will be required to take a record ACFT beginning Oct. 1, 2022.
Active-component Army and AGR soldiers must take their first record test prior to April 1, 2023, while Army Guard and Army Reserve soldiers will take their first record test prior to April 1, 2024. 
The test has long been controversial, especially its initial emphasis on gender-neutral scoring. RAND's analysis of some 460,000 soldiers' ACFT scores revealed that women were failing the new test at high rates.
A total of 48% of active-component enlisted women and 28% of active-component female officers could not pass the test. Nearly 60% of enlisted Guard and Reserve women failed the ACFT, as did 51% of female Reserve officers and 43% of female Guard officers.
The test's heavy emphasis on equipment also created challenges, especially for Guard and Reserve.  
Part-time troops technically did have more equipment — 15,854 sets issued to the Guard, compared to 10,829 sets provided to active-component units. But Guard soldiers have limited access to the kettlebells, sleds and bumper plates needed to train for the test.