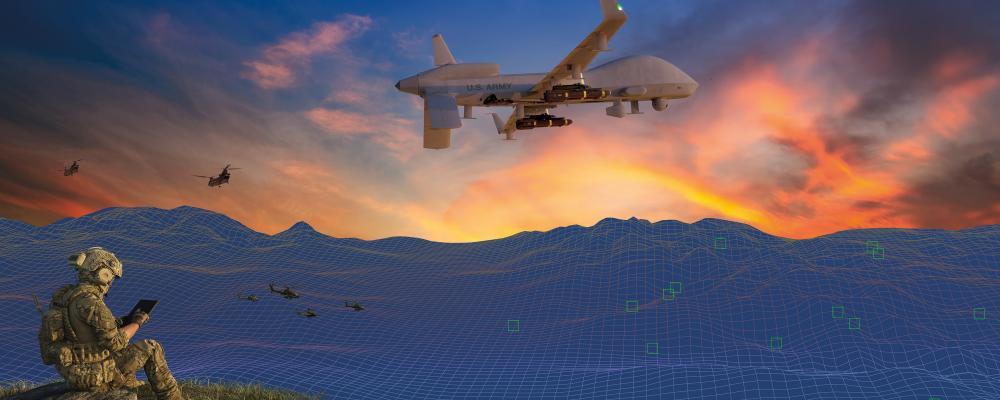 Kentucky and Illinois National Guard leaders and their congressional delegations were instrumental in getting funds for the Army National Guard's first MQ-1C Gray Eagle 25M unmanned aerial systems added to fiscal 2023 defense appropriations.
Now, they would like these aircraft fielded to their states to support the 38th Infantry Division.
"Kentucky and Illinois are well positioned for a Gray Eagle detachment to support their state and federal missions," said Maj. Gen. Haldane B. Lamberton, the adjutant general of Kentucky, in a media advisory from the National Guard Association of Kentucky issued last week.
Lamberton and Maj. Gen. Richard Neely, the adjutant general of Illinois, envision a 126-member Gray Eagle company and 12 aircraft split between the two states.
Army leaders consider Gray Eagles essential to future fights.
The Gray Eagle's unique reconnaissance, surveillance and target-acquisition capabilities enable commanders to pinpoint artillery.
All 10 active-component combat divisions have had Gray Eagles for more than a decade, but there are none in the Guard's eight divisions, which is why they are a NGAUS legislative priority.
The lack of Gray Eagles in the Guard divisions hinders the component's ability to train for and conduct large-scale combat operations.
"We absolutely need those in our formations," Gen. Daniel R. Hokanson, the National Guard Bureau chief, told a Senate Appropriations Defense Subcommittee hearing last year.
Lamberton, Neely and NGAUS say that the Army Guard has the Kentucky and Illinois congressional delegations to thank for beginning to make this happen.
According to Lamberton, including 12 Gray Eagles for the Army Guard in the fiscal 2023 defense spending is "a great example of a bipartisan approach."
The aircraft weren't in President Joe Biden's fiscal 2023 budget request.
But Senate Minority Leader Mitch McConnell, R-Ky., worked closely with Sen. Dick Durbin, D-Ill., and Sen. Tammy Duckworth, D-Ill., to secure the necessary funds in their chamber.
McConnell and Durbin are members of the Senate Appropriations Committee.
Duckworth, a retired Illinois Army Guard aviator, is a member of the Senate Armed Services Committee.
"Kentucky is a crucial part of America's defense infrastructure and stationing Gray Eagle assets in the Kentucky National Guard will support our military heroes as they work to keep our country safe," McConnell said in statement provided to NGAUS.
"Our National Guard plays a vitally important role in strengthening our Total Force and our national security," Duckworth added in a statement.
"It's why I worked so hard last year to secure significant funding to help the National Guard purchase Gray Eagle aircraft that will help support our troops so they can continue executing their missions," she continued.
NGAUS believes that Rep. Hal Rogers, R-Ky., a former Guardsman and longtime member of the House Appropriations Committee, and former Rep. Cheri Bustos, D-Ill., who didn't seek reelection last year, made funding for the Gray Eagle a bicameral, bipartisan effort.
"This capability is a critical step in making the 38th Infantry Division capable of multi-domain operations," said retired Col. Mike Hadley, the association's vice president, government relations.
"NGAUS will continue to work at making all eight Guard divisions MDO-capable in the near future," he said.
The Army Guard director will determine which Guard division will receive the new aircraft.
— By John Goheen