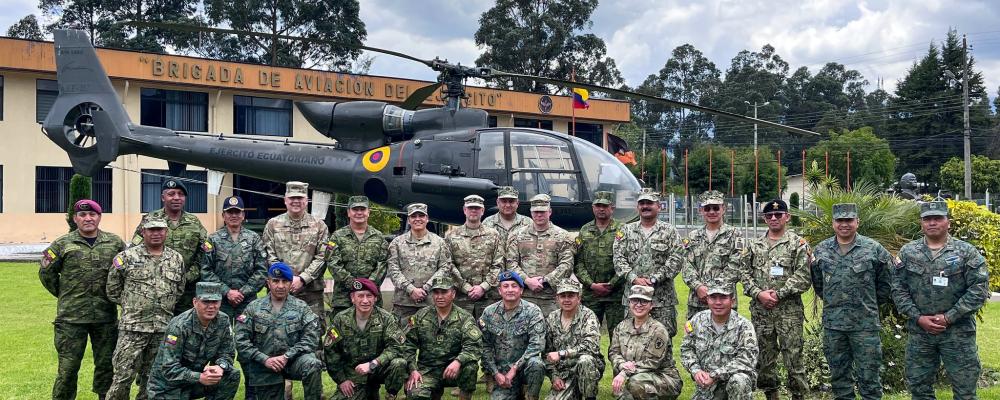 The National Guard's State Partnership Program — built on enduring relationships, common interests and trust — is stable, steadfast and growing, the Guard's top leader said last week in Denver.
The program started with 13 partnerships in 1993. It now boasts 100 nations paired with Guard elements from every state, territory and the District of Columbia, with more coming.
According to Gen. Daniel R. Hokanson, the National Guard Bureau chief, the program will be refined and expanded in the coming months and years.
"We're looking at streamlining processes, ensuring funding and expanding existing partnerships, while selectively looking at where we add additional partnerships," Hokanson told the Guard's annual SPP conference.
In the last year alone, the Guard added seven SPP security-cooperation agreements — Austria and Vermont, Norway and Minnesota, Samoa and Nevada and, most recently, Oman and Arizona. Three nations are now awaiting partner announcements.
The SPP began after the Soviet Union's breakup 30 years ago to help countries emerging from behind the Iron Curtain.
Now, 25 European nations are partnered with Guard elements, and there are partner nations in every geographic combatant command area of responsibility.
The program is administered by NGB and guided by State Department foreign policy goals.
The SPP is executed by the adjutants general in support of combatant commanders, U.S. Chief of Mission security-cooperation objectives and Defense Department policy goals.
Guardsmen, who often serve in the same state for their entire careers, offer the continuity for building lasting relationships with foreign military counterparts.
These relationships also provide DoD with regional access during situations like Russia's ongoing unprovoked invasion of Ukraine.
"We never want to see another Ukraine," Hokanson said.
"As our Guardsmen work with their counterparts in different countries, we can help identify and hopefully prevent these things from happening in the future," he added.
The 2022 National Defense Strategy names partnerships with foreign allies as a key strategic advantage: "Mutually-beneficial alliances and partnerships are an enduring strength — and will be all the more critical in the years ahead."
In support of that NDS goal, Hokanson said the Guard is postured to grow the SPP in the next decade.
SPP partnerships start at the military-to-military level, with Guardsmen training side-by-side with foreign counterparts at home and abroad. These relationships often evolve into whole-of-society relationships between states and nations.
Hokanson said the Guard executes 20% to 30% of the nation's security cooperation engagements that are SPP-related or enabled, with 1% of the U.S. security cooperation budget.
"I don't think you can find a better value than the State Partnership Program," he said.
Retired Army Gen. Stephen Townsend, a conference keynote speaker, said value, flexibility and persistence are three characteristics SPP exemplifies.
"In my view, these three features embody state partnerships and are the reason why SPP is so useful both to our combatant commanders and our National Guard," Townsend said.
During his final assignment as the commander of U.S. Africa Command, Townsend said he saw the SPP's value firsthand.
"I know this because it was always a talking point during my visits to Africa," he said. "It wasn't just service chiefs or chiefs of defense asking me about the partnership program. It was the presidents and ministers."
"If they didn't have an SPP, they wanted one," he said. "If they had an SPP, they wanted more of it."
Today, there are 17 African nations in the SPP.
Townsend said what makes the SPP special is the program's extended relationship reach.
"It's not just a program for the Guard; it's a partnership for the whole of state government," Townsend said, citing Iowa and Kosovo's close ties, which have their foundations in the SPP.
The Iowa Guard and Kosovo were paired in the SPP in 2003. Shortly after that, Iowa designated Kosovo as a sister state.
Kosovo has since established a consulate in Iowa, the first foreign diplomatic representation in that state.
— By Sgt. 1st Class Zach Sheely, National Guard Bureau