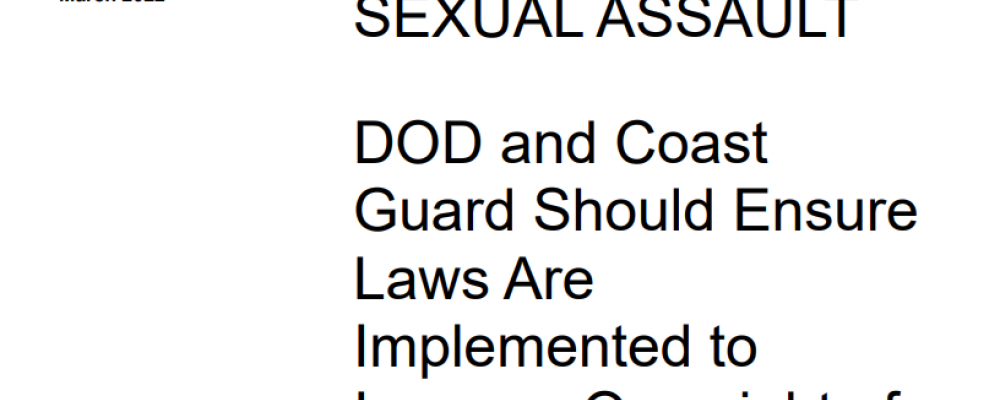 The military hasn't adopted all of Congress' requirements for preventing sexual assault, according to the Government Accountability Office. 
Released last week, the report, "DOD and Coast Guard Should Ensure Laws Are Implemented to Improve Oversight of Key Prevention and Response Efforts," found the Defense Department hasn't implemented 18% of the legally required measures for stopping sexual assault since 2004.
GAO is the investigative arm of Congress.
 "Sexual assault is a heinous crime that can have lasting, harmful effects on victims," the report said.
"It contradicts the core values that the Department of Defense (DOD) and the Coast Guard expect service members to follow and disrupts mission readiness," the document released March 28 added.
GAO said DoD hasn't fully implemented 36 of 198 statutory requirements concerning sexual assault prevention and response since 2004.
The Department of Homeland Security oversees the Coast Guard and hasn't completely enacted six of 36 legislative mandates since the same year.
The GAO spotlighted unfinished measures including oversight, evaluation and reporting processes for preventing sexual assault.
At both DoD and the Coast Guard, some requirements for victim protection and advocacy and investigating sexual crimes also fell short.
"Until DOD fully implements all of these statutory requirements, such as those related to program evaluations, Congress and DOD may continue to lack necessary data about the effectiveness of programs and activities, which can affect oversight," the GAO noted.
"Additionally, DOD may not ensure compliance with the laws and may not fully implement efforts to support victims and prevent sexual assaults," the agency continued.
GAO made 23 recommendations for improving DoD and Coast Guard's sexual assault prevention and response initiatives.
Both organizations concurred with GAO's suggestions and are now working toward them, they said.
GAO detailed the military's progress mitigating sexual assaults to the House and Senate Armed Services committees.
The agency's examination occurred between November 2019 and March 2022.
The 2020 National Defense Authorization Act required GAO to gauge the military's embrace of statutory requirements about sexual misconduct.
GAO auditors scrutinized all legal statues for addressing and halting sexual assault between fiscal years 2004 and 2019. 
Sexual assault and harassment have recently become key issues across the military. 
Lawmakers, service members and the public are now demanding more transparency on such misconduct.
In February 2021, Defense Secretary Lloyd J. Austin II called sexual misconduct "persistent and corrosive problems across the total force."
Austin then established an independent review commission for examining the problem and recommending changes to the Pentagon 90 days later.
In July 2021, the IRC's report described the DoD as underequipped for sexual assault prevention and response.
Gen. Daniel R. Hokanson, the chief of the National Guard Bureau, announced in January 2021 the Guard was instituting 19 proposals for better combating sexual misconduct.
A task force Hokanson appointed made the recommendations, which covered six strategic areas, such as leadership education. "This is a serious problem, and we recognize it as such," he said. 
In 2019, the DoD's Office of People Analytics reported about 6,567 Guardsmen and Reservists experienced sexual assaults in 2018.