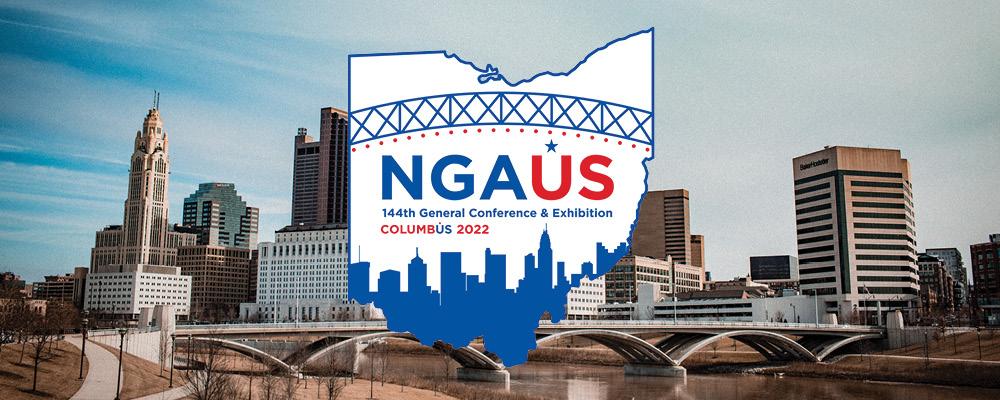 WASHINGTON (Aug. 18, 2022) — Three members of the Joint Chiefs of Staff and the governor of Louisiana will top the agenda when more than 2,500 current and retired National Guard officers gather Aug. 26 to 29 in Columbus, Ohio, for the 144th NGAUS General Conference & Exhibition.  
Conference business sessions open Aug. 27 with presentations by the uniformed leaders of the Army and Air Force, Gen. James C. McConville, the chief of staff of the Army, and Gen. Charles Q. Brown, Jr., the chief of staff of the Air Force.  
Speakers Aug. 28 include Lt. Gen. Laura A. Potter, the deputy Army chief of staff for intelligence, and Gen. Daniel R. Hokanson, the chief of the National Guard Bureau.
Brown, Hokanson and McConville are members of the Joint Chiefs of Staff, which advises the president of the United States, the secretary of defense, the Homeland Security Council and the National Security Council on military matters.
As the Army's former senior intelligence officer in Europe, Potter is considered an authority on the current crisis on the continent. 
Among the speakers on Aug. 29 are Gen. Andrew P. Poppas, the new commanding general of U.S. Forces Command, the Army's largest command; and Louisiana Gov. John Bel Edwards.
   
Most speakers will address the conference theme, The National Guard: At the Heart of It All. They are also certain to touch upon emerging national security threats, future defense budgets and the Guard's place in U.S. defense strategy. 
The conference is the annual NGAUS business meeting. Conference delegates from all 50 states, Guam, Puerto Rico, the U.S. Virgin Islands and the District of Columbia will set their 2023 legislative agenda and elect members to the association's board of directors. 
Also included in the event is the association's largest trade show in a decade. More than 340 companies that sell or want to sell products and services to the Guard will exhibit. Among them are some of the world's largest defense contractors, but some are smaller companies attempting to break into the market. 
More conference information, the full business agenda and a complete list of exhibitors are available here.
Reporters: All major conference events will be held at the Greater Columbus Convention Center. A press office will be established in the facility. Office contact information will be provided in a later release. Conference press credentials will be issued onsite. 
NGAUS: The association was created in 1878 to provide united Guard representation in Washington. In their first productive meeting after Reconstruction, militia officers from the North and South formed the association with the goal of obtaining better equipment and training by educating Congress on militia requirements. Today, 144 years later with more than 40,000 members nationwide, NGAUS has the same mission.