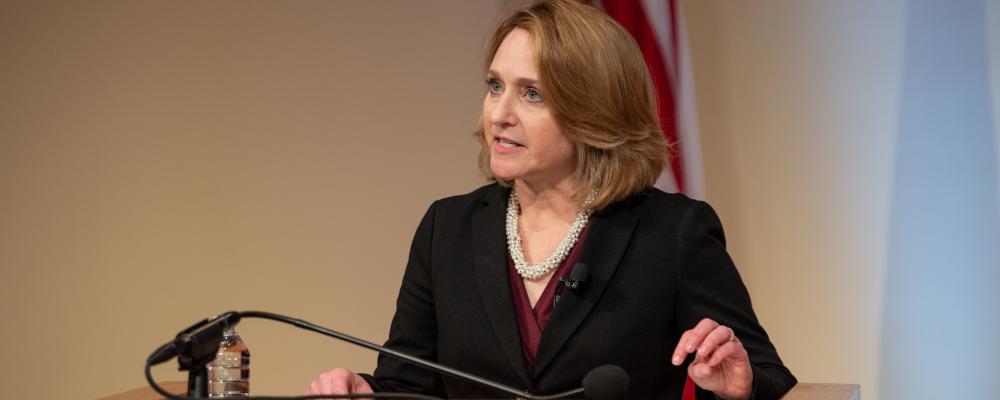 Deputy Defense Secretary Kathleen Hicks says climate change is a "fact" for America's armed forces.
Speaking at the U.S. Military Academy at West Point, New York, last week, Hicks said natural disasters caused by climate change are increasingly taxing the U.S. military — especially the National Guard.
"Climate change is a national security issue, and for the national security community, that declaration is not controversial — it's fact," she said.
"To train, fight and win in this increasingly complex environment, the department must consider the effects of climate change in every policy, strategy and level of the enterprise and invest accordingly," Hicks argued.
Hicks was addressing the U.S. Military Academy's Sustainable Infrastructure, Resilience and Climate Consortium at West Point.
On the same day as Hicks' remarks, Hurricane Idalia struck Florida as a Category 3 storm before hitting Georgia and South Carolina.
Per the Defense Department, 5,500 Guardsmen were standing by in Florida when Idalia made landfall there.
On Aug. 8, multiple wildfires raced across Maui, Hawaii, a catastrophe that also demanded the Guard's attention.
Last week, Hicks revealed that fighting fires is becoming a heavier burden for many Guardsmen nationwide.
"The number of personnel days the National Guard spent on firefighting increased from 14,000 in fiscal year 2016 to 176,000 days in fiscal 2021," she noted.
"That's more than 12-fold in just five years, and it is a major redirection of time, attention and resources," Hicks stated.
Hicks additionally discussed how climate change is dramatically raising the Total Force's expenses.
For example, she cited the more than six inches of rain West Point received in only an hour in July, an incident that cost an estimated $150 million in flooding damages.
"Around the world, we're also seeing how climate change is altering the global landscape, and with it, our mission," Hicks stated.
"We have requested an unprecedented level of climate-related investments to increase combat capability and mitigate risk — growing from more than $600 million in fiscal year 2022 to more than $5 billion in our proposed budget request for fiscal year 2024 budget," she noted of DoD.
On Aug. 14, the National Oceanic and Atmospheric Administration announced that July 2023 had an average global surface temperature that was 2.02 degrees Fahrenheit above average.
This average made July 2023 the warmest July in NOAA's 174 years of records, and, according to the agency, potentially Earth's warmest month on record.
Last month, Hicks vowed the U.S. will "not compromise on military capability or the readiness of our forces" while climate change unfolds.
"And in the case of climate change, we have a twofold opportunity: to make our military more sustainable and create an operational advantage for our warfighters," she suggested.
"Because, as it turns out, what's good for the environment also benefits our military," Hicks ended.
— By Mark Hensch