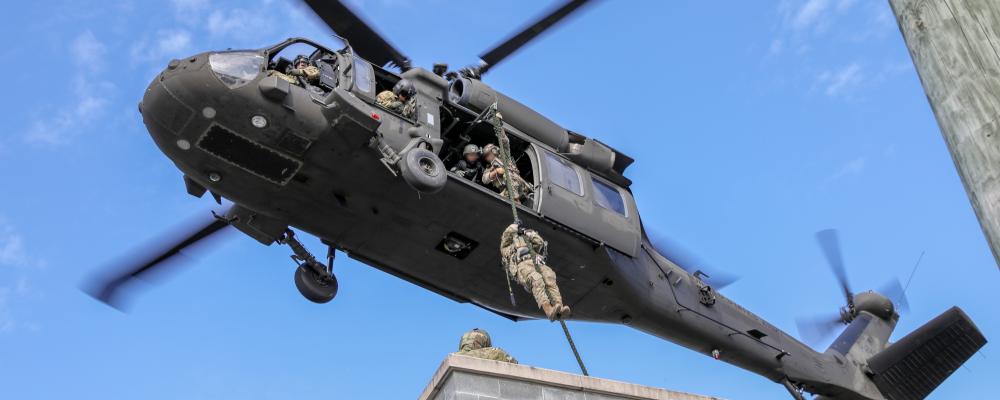 The Army says its helicopter pilots are grounded until they complete mandatory safety training.
The action follows two recent crashes that killed 12 active-component soldiers in Alaska and Kentucky. Both crashes are under investigation.
Last Thursday, two Army AH-64 Apaches crashed near Healy, Alaska, killing three troops and injuring a fourth. In March, nine soldiers died when two UH-60 Black Hawks collided northwest of Fort Campbell, Kentucky.
Additionally, two Tennessee Guardsmen aviators died when their Black Hawk crashed near Huntsville, Alabama, in February.
"The safety of our aviators is our top priority, and this stand down is an important step to make certain we are doing everything possible to prevent accidents and protect our personnel," Gen. James C. McConville, the Army chief of staff, said in a statement Friday, according to The Associated Press.
Lt. Col. Terence Kelley, an Army spokesperson, told AP that aviators are grounded until they complete the safety training. Active-component units must complete the safety program this week, while Army National Guard and Army Reserve units have until May 31.
According to Army Times, Army Guardsmen participating in critical missions remain authorized to fly helicopters but must ultimately complete the new safety training.
The Army Guard flies 948 Black Hawks, which is about 40% of the Army's fleet. According to the National Guard Bureau, the Army Guard also operates 78 Apaches, 191 CH-47 Chinooks and 210 UH-72A Lakotas.
The new safety training will cover topics including flight planning, risk assessment, safe multi-ship operations, safety statistics and trends and maintenance and aircrew training.
Junior troops will also be invited to "inform aviation unit leaders on unit-specific actions" for improving safety practices.
The Army action follows a Government Accountability Office report released last month that indicated some Army and Air Guard units are struggling to maintain required flight hours and adhere to safety standards.
GAO, the investigative and auditing agency of Congress, looked at 298 Army and Air Guard helicopter accidents between 2012 and 2021.
It noted all the accidents occurred during noncombat flight operations, with 45 incidents (40 Army Guard, five Air Guard) considered serious, or involving "death, permanent disability, extensive hospitalization, property damages of $500,000 or more, or a destroyed helicopter."
GAO found the Army Guard actually has a lower rate of major crashes than the active component. But the agency attributed most of the accidents across both Guard components to human error.
Officials told GAO investigators one challenge the Guard has is getting part-time aviators enough actual flying hours. Part-time Guardsmen also have less time accessing simulators.
GAO recommended the Army and Air Guard implement several safety changes, including reassessing their safety officer workloads.
Guard safety officers are currently responsible for many duties, leaving them with limited time to focus on safety.
GAO conducted its safety investigation at the request of Sen. Chuck Schumer, D-N.Y., who said he became concerned about the issue after two fatal Army Guard helicopter crashes in early 2021.
The agency's full report is available here.
The Army last conducted an aviation stand down of this scale in December 2015, when three deadly helicopter crashes occurred in 10 days.
— By Mark Hensch