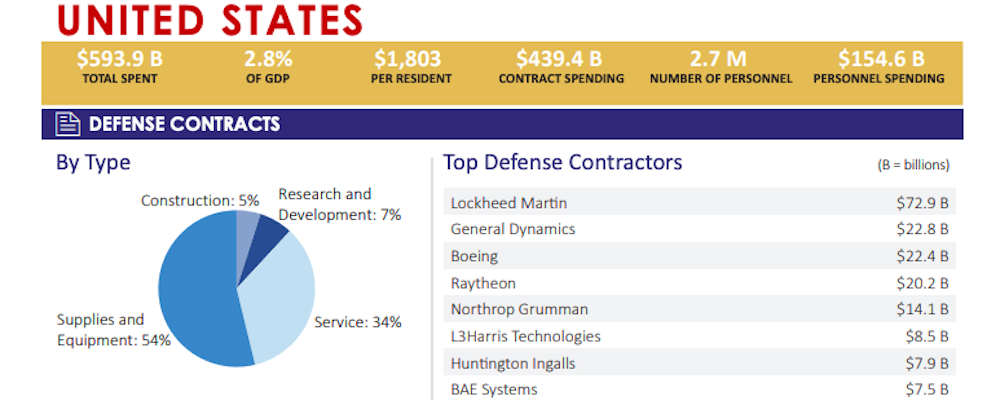 A new Defense Department report outlines military spending across the 50 states and the District of Columbia.
The report reveals that the Top 10 states for total defense spending accounted for more than half of overall domestic defense spending. That includes contract and personnel spending during fiscal year 2020.
According to the DoD's Office of Local Defense Community Cooperation, Texas received the most defense dollars with $83 billion, followed by Virginia with $64.3 billion and California with $61 billion. The remaining Top 10 states were Maryland, Florida, Connecticut, Arizona, Massachusetts, Pennsylvania and Georgia.
Top military communities included San Diego County, California; Bexar County, Texas; Honolulu County, Hawaii, Cumberland County, North Carolina; and El Paso County, Colorado.
Overall, DoD totaled $594.9 billion in total contract obligations and payroll spending in fiscal 2020, with the majority, $439.4 billion, paying for contracts for products and services. Contract spending rose by more than $50 billion when compared to fiscal 2019.
More than half of all contract spending (54%) went to supplies and equipment, such as aircraft, ships, weapons and parts. A little more than a third (34%) were for services, with research and development (7%) and construction (5%) comprising the remainder.
Of the $154.6 billion in personnel spending, the largest portion funded the active component force (46%), followed by defense civilians (40%), the National Guard (8%) and the Reserves (6%).
Overall, DoD spent $21.7 billion in Guard and Reserve pay in 2020, although spending data for American territories, such as Puerto Rico, Guam and the Virgin Islands will not be available until later in the year.
The report provides national and state breakdowns of military spending and the nearly 2.7 million-person defense workforce, including a state-by-state look at the top defense personnel locations and military installations, including Guard facilities.
Overall the National Guard accounts for 16% of all military personnel, despite accounting for less than a tenth of the overall personnel cost. The active component is 43% of all personnel, with civilians accounting for 28% and the Reserve accounting for 13%.
At the state level, Guard presence varies dramatically, with Guardsmen in Virginia accounting for just 3% of all military personnel, while Guardsmen in Vermont account for 76% of military personnel in that state.
The full report is available online.