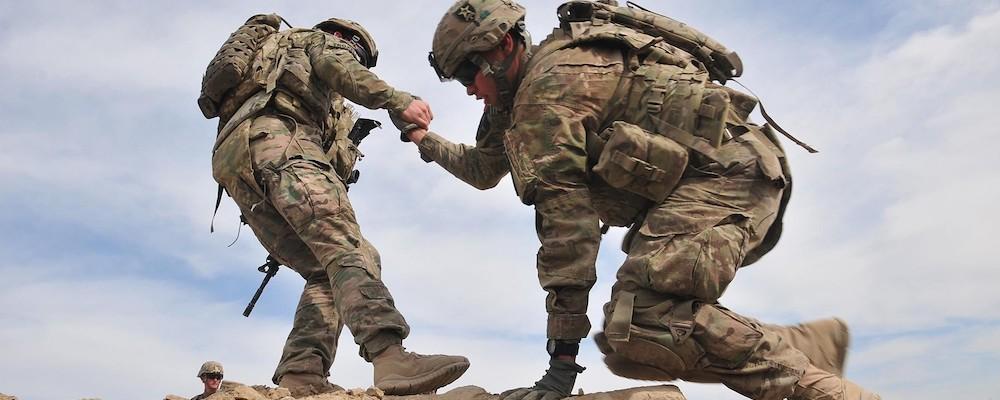 Suicides among members of the National Guard, which had appeared to be on the decline in 2019, rose in 2020, according to the latest Defense Department Annual Suicide Report.
The report found that, despite the 2019 decrease, Guard suicide rates have had no statistically significant increase or decrease from 2015 to 2020.
But Guard leaders said those numbers do not capture the full efforts of numerous suicide prevention programs and other initiatives aimed at strengthening the resiliency of the force.
They also stated there is no evidence that a busy 2020, marked by an ongoing pandemic and numerous deployments for civil unrest or natural disasters, played a role in suicide rates.
"This is a very complicated problem," said Maj. Gen. Eric K. Little, the director of manpower and personnel for the National Guard Bureau. "One suicide is too many for us. Our goal is zero."
Defense leaders have said the report's findings are "troubling."
"Suicide rates among our service members and military families are still too high, and the trends are not going in the right direction," said Defense Secretary Lloyd J. Austin III. "I feel these losses personally and mourn alongside the families and loved ones of those we have lost. Each suicide sends forth wave after wave of pain and grief. One such tragedy is too many."
The Annual Suicide Report found that 580 service members died by their own hands in 2020. The suicide rate for the active component was 28.7 per 100,000 individuals, which has been increasing since 2015, officials said. The suicide rate was 21.7 for the Reserve and 27.0 for the Guard per 100,000 individuals. Both the Reserve and Guard rates have held steady over the past five years.
Defense leaders said there is nothing that indicates an increase in suicides related to COVID-19, but said they are continuing to monitor the impact of the pandemic on the force.
The Guard reported 120 suicides in 2020, according to NGB. That's up from 90 in 2019 but more on par with the 136 reported in 2018. Officials said they are still trying to determine if 2019 was an anomaly or part of a larger pattern.
Little noted that suicide is the leading cause of death in the United States, in both the civilian and military populations, and said that Guard numbers were on par with the general population when adjusted for age and sex differences.
The Guard's unique dual missions and widely distributed force makes prevention efforts all the more difficult, Little said. Guardsmen, even those serving within the same state, can possess varied risk factors related to their communities, families and jobs.
"Our challenge is we only see these soldiers and airmen a weekend a month," Little said. "Twenty-eight days they're on their own."
There is no one-size-fits all approach, he said. But Guard leaders are taking steps to ensure more comprehensive and complete prevention efforts.
A Suicide Prevention Task Force meets regularly with officials from all 54 states and territories and other agencies, Little said. And Guard leaders have used a program called SPRINGboard, or Suicide Prevention and Readiness in the National Guard, to gather data on suicide and prevention efforts and pair that information with identified risk factors and successful interventions.
NGB is also supporting pilot programs, with 27 currently being tested in 34 states. By providing funding and administrative support, those programs could eventually expand or be tailored to support other states.
Little said prevention efforts are expanding far beyond the Guard force. They include partnering with civilian medical professionals to train them on specific mental health issues that could be impacting local Guardsmen, educating families to help them recognize risk factors in Guardsmen and screening new recruits for risk factors and then providing additional support if needed.
A big success, he said, has also been increased partnership with Department of Veterans Affairs Vet Centers, with increased access to care at both brick and mortar and mobile facilities located across the nation.
One of the remaining challenges, however, is continuing to reduce the stigma of seeking help.
"What we're trying to do is have our members understand having a mental health issue is no different than having a sprained ankle," Little said. "It's OK to come get help."
Service members and veterans can reach the Veterans and Military Crisis Line at www.veteranscrisisline.net or call 800-273-8255 (press 1) or text 838255. Confidential support is available 24/7.