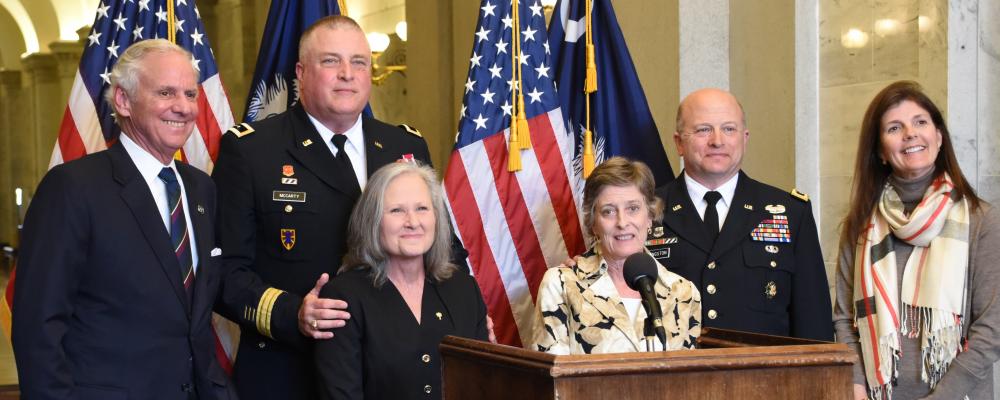 There will be several new faces when the adjutants general gather this weekend in Washington, D.C., for their annual winter meeting.  
The senior National Guard officer in each of the 50 states, Guam, Puerto Rico, the U.S. Virgin Islands and the District of Columbia will assemble under the auspices of the Adjutants General Association of the United States. 
AGAUS provides the adjutants general with a professional association to share information and develop collective state strategies on a variety of Guard matters. 
 
As is the case every year, the AGAUS gathering coincides with the annual National Governors Association winter meeting in the nation's capital. 
Changes in state leadership from the November midterm elections, planned retirements and, in one case, the move to Title 10 (federal) position, have resulted in many new adjutants general. They include:
•    Col. Torrence Saxe, Alaska 
•    Maj. Gen. Thomas Carden, Georgia    
•    Lt. Col. Esther Aguigui, Guam
•    Brig. Gen. Richard Neely, Illinois
•    Maj. Gen. Paul Rogers, Michigan
•    Maj. Gen. John Harris, Ohio
•    Maj. Gen. Van McCarty, South Carolina
•    Maj. Gen. Jeff Holmes, Tennessee
•    Maj. Gen. Tracy Norris, Texas
    
In addition, the Vermont legislature is expected to appoint a new adjutant general this week. Vermont is the only state that selects its senior Guard official by an act of its legislature. 
The governor, who serves as the commander in chief of the National Guard in peacetime, appoints the adjutant general in every other state, Guam, Puerto Rico and the U.S. Virgin Islands. The president appoints the commanding general of the District of Columbia National Guard.   
Several other states will also have new adjutants general in the coming months due to announced retirements. Before the end of the year, there could be nearly 20 new adjutants general nationwide.