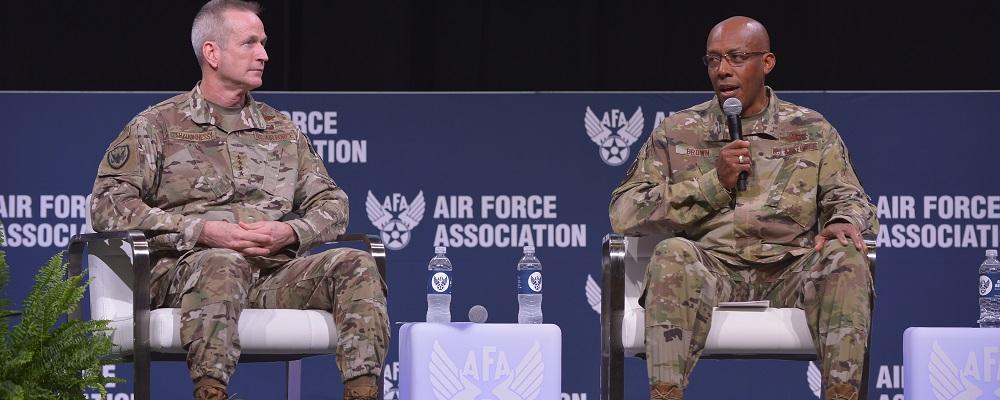 The general in line to become the Air Force's next top officer has released a video message on his own experiences with racism within the ranks.
Gen. Charles Q. Brown was nominated earlier this year to replace Gen. David Goldfein as Air Force chief of staff. If confirmed, he would be the first black chief of a military service. 
The general, currently at the helm of Pacific Air Forces, became one of the first senior leaders in the military to speak out following the death of George Floyd in Minnesota. Floyd's death while in police custody has sparked protests across the nation and an ongoing discussion on discrimination.
Brown, in his remarks, spoke of feeling isolated as a black pilot and discussed the nation's history of racial issues and his own experiences "that didn't always sing of liberty and equality."
"I'm thinking about my Air Force career, where I was often the only African American in my squadron, or as a senior leader the only African American in the room," he said. "I'm thinking about wearing the same flight suite with the same wings on my chest as my peers and then being questioned by another military member: 'Are you a pilot?'"
Brown recalled insensitive comments directed toward him and how he rarely had a mentor "that looked like me." He said he had to work twice as hard as his peers to prove himself amid racial stereotypes.
Brown was nominated on March 2, but his confirmation was delayed over concerns with a basing decision for the new KC-46 Pegasus tanker, according to reports.
The senator who had held up the process has since lifted that legislative hold, according to reports, clearing the way for the Senate to vote on the confirmation.
Brown said his nomination comes with a heavy burden and said he is considering how to make improvements to fix racism within the Air Force. He said he wants to hear ideas on the subject from service members.
"Without clear-cut answers, I just want to have the wisdom and knowledge to lead during difficult times like these," he said. "I want the wisdom and knowledge to lead, participate in and listen to necessary conversations on racism, diversity and inclusion."
The video is available at https://www.pacaf.af.mil/