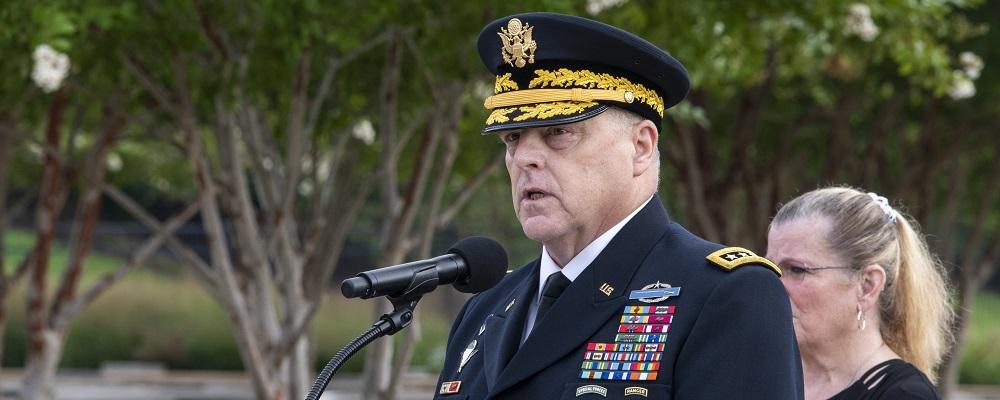 Senior military leaders last week paid their respects to those lost in the Sept. 11, 2001, terrorist attacks.  
But in addition to honoring those lost in the attacks and the wars that have followed, they also took the opportunity to remind the force of the American values they must continue to be ready to protect. 
"The idea of a free press, free speech, due process," said Gen. Mark A. Milley, the chairman of the Joint Chiefs of Staff. "The right to peacefully assemble, and demonstrate and protest."
Milley's remarks came during the Pentagon's annual 9/11 remembrance ceremony, which honored the 184 service members and civilians killed in the Pentagon on that day in 2001 and the more than 7,000 who have died since in the Global War on Terrorism.
He spoke of the need to treat all Americans as free and equal, with success based on merit, not their race, religion or other "anything other than our competence and our character."
"Those ideas were, and still are, hated by our enemies, by fascists, Nazis, Communists, al Qaida, ISIS, authoritarians, dictators and tyrants of all kinds," the general said. "They hate those ideas. They hate those values, and on 9-1-1 – on 9/11 — they tried to destroy us."
Defense Secretary Mark Esper said many Americans have stepped up to serve their country since the attacks, swearing a solemn oath to support and defend the Constitution and "paying the ultimate price" to ensure such an attack never happens again.
"That remains our standard to this day," he said. "Whether denying safe haven to terrorists in Afghanistan and Iraq, defeating the physical caliphate of ISIS, preventing violent extremists from getting a foothold on the African continent or bringing to justice terrorist leaders wherever they hide, the United States military continues to defend our homeland, our people and our way of life."