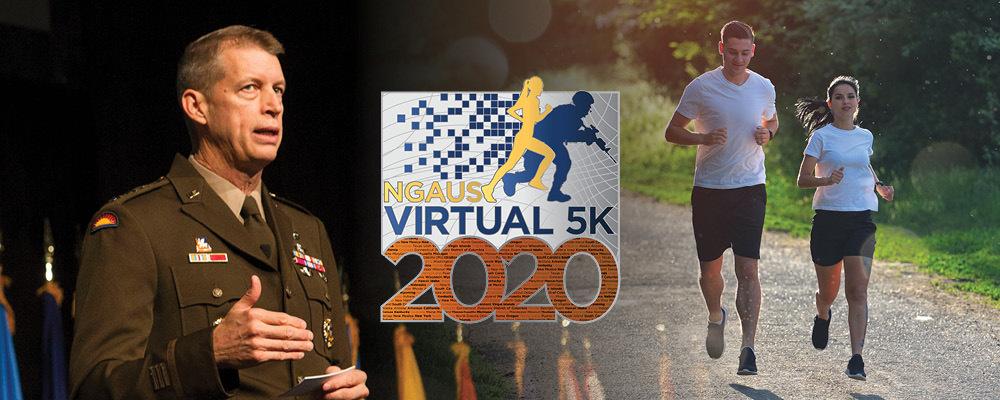 The uniformed leader of the Army and the new chief of National Guard Bureau will be among those speaking at the 142nd General Conference.   
And attendees (as well as non-attendees) will be able to participate in the first NGAUS Virtual 5K, which will be conducted in conjunction with the conference.  
Gen. James McConville spoke to the conference last year, about a month after taking over as Army chief of staff.  
This will likely be Lt. Gen. Daniel Hokanan's first public appearance as Guard Bureau chief. He is set to receive a fourth star and become the head of NGB early next month. 
Additional speakers will be announced closer to the event. More than 1,000 NGAUS members and supporters have already registered.    
The conference will be livestreamed from the National Guard Memorial, the association headquarters in Washington, D.C. 
NGAUS will set up a studio in that will remind many of the standard conference stage. An audio-visual company will produce and transmit a broadcast-quality telecast to an online event platform.
In addition to the conference telecast, the platform will offer speaker bios and other information. Attendees will also be able to connect with each other, pose questions to speakers and visit a virtual trade show. More than 40 companies have already registered to exhibit.
NGAUS tested the production team, their equipment and the platform during the Capitol Summit earlier this month. Speakers and attendees alike said the quality of the broadcast exceeded their expectations.  
Conference events get underway the morning of Aug. 28 with work on the resolutions. Two delegates from each of the 54 states and territories will develop a package to serve as the basis for next year's legislative action plan. 
The first of four short business sessions will follow later the day. Among the highlights Aug. 29 will be the Roll Call of States. Many states and territories have already submitted 30-second videos. 
NGAUS is also hosting a virtual 5K run/walk in conjunction with the conference. Participants will set up their course anywhere they want (treadmills and overseas locations included) and run or walk it anytime between Aug. 24 and 30. 
Registration will open Aug. 1 at 7 a.m. EDT. It ends Aug. 16 at 11:59 p.m. EDT. All registrants will receive a race medal, which will be mailed beginning Aug 17. The event is not limited to association members. 
Participant names, times and run/walk locations submitted to [email protected] will be posted on the NGAUS website. 
Register at www.ngaus.org/events/142nd-general-conference or at https://runsignup.com/NGAUSvirtual5k. The links will go live on Aug. 1. The fee is $30. Proceeds go to the National Guard Educational Foundation.