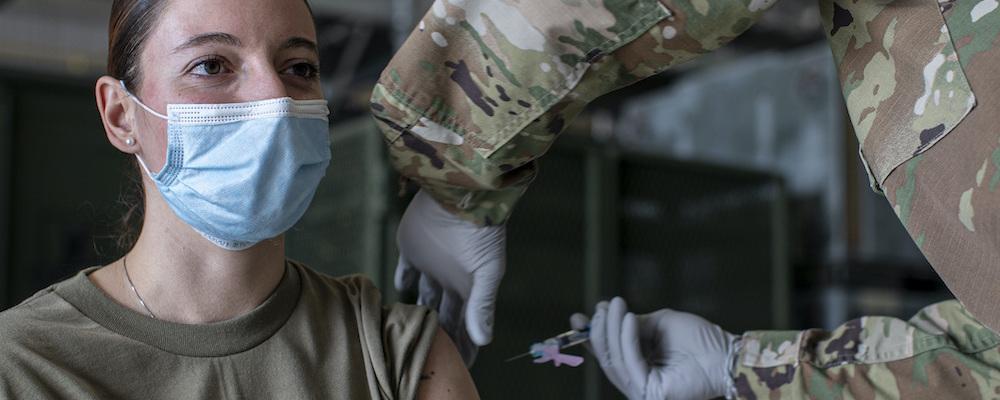 Pentagon officials on Monday asserted that Defense Secretary Lloyd J. Austin III has the authority to order members of the National Guard to receive a COVID-19 vaccine.
The remarks come after Oklahoma Gov. Kevin Stitt sent a letter to Austin requesting an exemption from the vaccine mandate and following a recent memo by Brig. Gen. Thomas Mancino, the adjutant general of Oklahoma, that stated no member of the Oklahoma Guard would be required to be vaccinated, nor would they be punished for refusing to be vaccinated.
Mancino became adjutant general last week, after Maj. Gen. Michael Thompson, who had been a vocal proponent of COVID-19 vaccines, was asked to resign by Stitt.
The Oklahoman reported that Stitt's office has denied that Thompson was replaced due to his opinion on the vaccine mandate.
Stitt has recommended that every member of the Oklahoma Guard get vaccinated.
A spokesman for the Oklahoma Guard told the newspaper that Mancino's memo "reflects the governor's ability to assert his command authority over the men and women of the Oklahoma National Guard while they are within the state's borders."
"The clarification will allow our unvaccinated Guardsmen to continue to serve in Oklahoma without any negative repercussion, but it does not provide any protection should they need to attend any military school or training activity run by an active-duty component of the Department of Defense," said Lt. Col. Geoff Legler.
On Monday, Defense Department spokesman John Kirby said the defense secretary, along with the service secretaries, has the authorities to establish readiness requirements for all members of the Defense Department, including the National Guard in a Title 32 status.
"The secretary has the authorities he needs to require this vaccine across the force, including the National Guard," Kirby said. "He still has that authority, even when they're in a Title 32 status."
Kirby declined to discuss hypothetical next steps for the Defense Department, refusing to comment on whether or not Austin would consider withholding Guard funding from Oklahoma.
He said Austin believes a vaccinated force is a more ready force.
"Just take a look at what the National Guard has done in just the last year alone, from disaster relief, wildfires, hurricane relief to assisting literally in putting shots in the arms of their fellow Americans," Kirby said. "They have been very, very busy. And they do meet key national security needs. So, it's important for them to get these vaccines.
"It is a lawful order for National Guardsmen to receive the COVID vaccine. It's a lawful order and refusing to do that, absent an approved exemption, puts them in the same potential [for disciplinary action] as active-duty members who refuse the vaccine," he added.
Current vaccine deadlines give members of the Air Guard until Dec. 2 to be vaccinated, while members of the Army Guard have until June 30.
Kirby said defense leaders were not aware of any other state or other governors who may plan to take a similar stance to the one set by Oklahoma.
"If there's a snowball effect, we haven't seen it yet," he said.