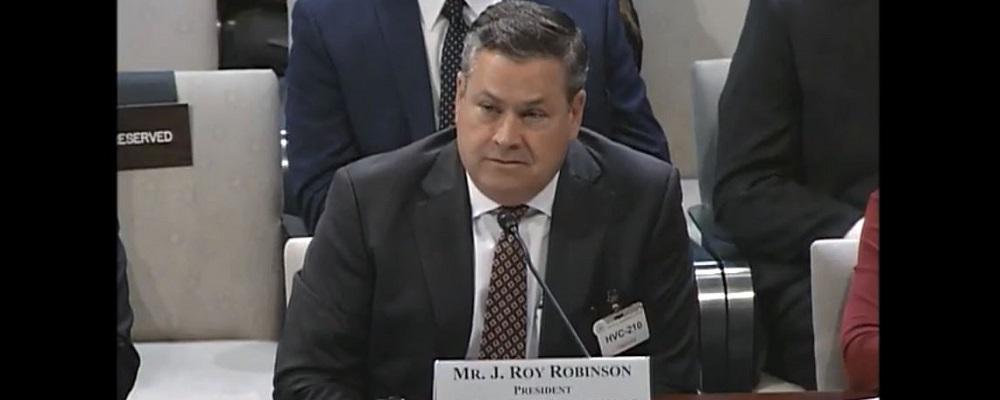 The NGAUS president joined National Guard leaders on Capitol Hill last week to testify during a special hearing on protecting benefits for service members.
Retired Brig. Gen. J. Roy Robinson focused on three issues impacting Guardsmen during his remarks: expanding TRICARE to cover all service members in all statuses, streamlining record keeping of service across the Total Force and legislative initiatives that support employers.
"Our members are serving in uniform more days throughout the year and often completing military tasks on civilian time, all while undertaking additional military administrative and training duties due to insufficient levels of full-time support personnel," he said. "As we continue to increase operational demands on our soldiers and airmen, their employers are feeling the effects of their extended absence.  In the wake of this new reality, we ask that the Committee supports continued efforts to assist Reserve Component service members and their employers."
Robinson spoke as part of a panel that also included Maj. Gen. Dawne Deskins, director of manpower and personnel for the National Guard Bureau; Maj. Gen. Michael C. O'Guinn, deputy chief of the Army Reserve; Daniel Elkins, legislative director for EANGUS; and Susan Lukas, director of legislation and military policy for the Reserve Officers Association.
The hearing was hosted by the Committee on Veterans' Affairs Subcommittee on Economic Opportunity. It was held Oct. 23 in the House Visitors Center and was meant to examine issues related to creating parity of benefits for Guard and Reserve members "equal to that of active duty."
Rep. Andy Levin, D-Mich., said Congress is re-examining policies and benefits as the reserve component has shifted to an operational force. He said the Guard and Reserve is no longer a "break glass in case of war" force.
Levin said the nation must pay for equitable benefits now, pay to drastically expand its active component or suffer on the battlefield in the future.
During the hearing, legislators asked about the need for specialized transition assistance programs and difficulty for Guardsmen accessing mental health help and learned that some Guardsmen deployed to the U.S.-Mexico border are not receiving credit towards earning GI Bill benefits.
Deskins said that about one-third of the Army Guard served more than 50 days in the most recent fiscal year while the Air Guard, on average, served seven days above the traditional 39 days. Guardsmen who belong to units preparing for major training exercises or mobilizations and those who responded to unplanned domestic and emergency responses served even longer.
The longer time serving means less time with families and in civilian jobs, Robinson noted.
"As we ask more and more of our National Guard and Reserve units in peacetime training, I worry that companies will start to choose equally qualified non-military candidates over our service members simply because they are concerned that the soldier or airman will be away too often," he said. "We must find a way to better incentivize these companies."
One way would be H.R. 801, the Reserve Component Employer Incentive, Compensation and Relief Act of 2019, which would grant tax credits to employers who employ members of the National Guard and Reserve.
Robinson said he spoke on behalf of the nearly 45,000 NGAUS members and the 450,000-strong Guard force.
He also asked the committee to consider new benefits for Guardsmen, including zero-cost TRICARE health coverage and improved data management.
"As the National Guard remains an integral part of our nation's defense, both at home and abroad, increased training and readiness requirements combined with more frequent deployments has strained the traditional citizen-soldier construct, placing stressors on both the Guardsmen and their employers," Robinson said. "While I cannot anticipate future operational demands, what is clearly true is that the era of 'one weekend a month and two weeks a year' is over."
Zero-cost TRICARE would go beyond improving medical readiness and wellbeing for reserve component troops and their families, he said. It would also be a benefit to employers and help recruit and retain soldiers and airmen.
"I believe very strongly that the time is now to discuss if an operational reserve is better served through ensuring guaranteed medical coverage in lieu of the current disjointed system of third party health contractors and periodic health assessments," Robinson said.
Better data management — through the creation of a new record to capture military service — would ease burdensome bureaucracy and eliminate hurdles that Guardsmen encounter when trying to document their service.
The problems are caused, in part, by shortcomings with the military's Certificate of Active Service, or DD-214, which only chronicles service over 90 days. If a Guardsman serves but never goes on active duty, or serves on active service for less than 90 days, they are not entitled to a DD-214.