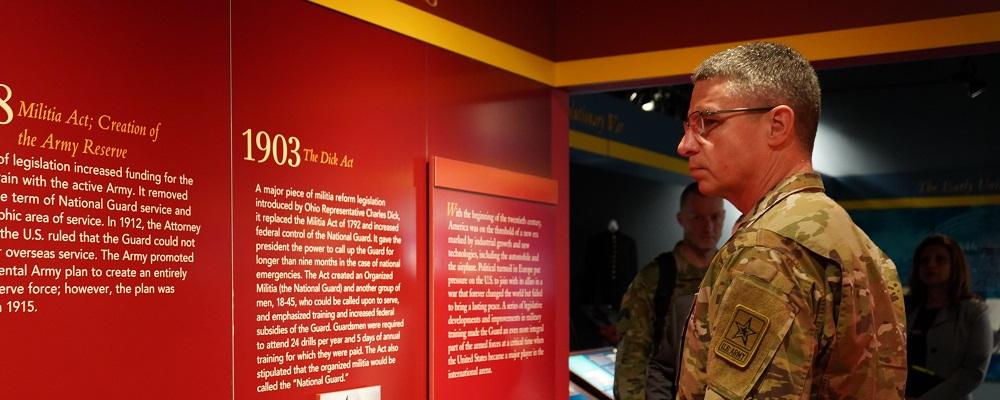 The Army vice chief of staff toured the National Guard Memorial Museum and met with NGAUS staff during a visit to the National Guard Memorial, the association headquarters in Washington, D.C., earlier this month.
Gen. Joseph M. Martin came at the invitation of retired Brig. Gen. J. Roy Robinson, the NGAUS president. Robinson helped show the Army's No. 2 officer around the 5,600-square-foot museum before sitting down with him for a meeting.
Retired Col. Mike Hadley, the NGAUS legislative director, and Adrienne Jackson, the legislative affairs manager for Army programs, also attended.   
"General Martin is new in the position, so we wanted to have him over to get acquainted, share how we can work together to better our Army," Robinson said.  
Equipment modernization and force structure were the focus of the conversation, Robinson said.
Martin said his visit "reinforced" his knowledge of Guard history and the current contribution the force makes to the Army.
"I can tell you that we are committed to fielding the best equipment available if [the Guard is] going to go into harm's way," he said. "Training them is also very important priority for the United State Army. They are 39 percent of the Army. You can't overlook more than a third of the Army and all the capability that resides here."  
NGAUS hosted Gen. James C. McConville in a similar event last year when he was the Army vice chief. He is now the Army chief of staff. Robinson said he intends to invite other Army and Air Force senior leaders in the future.
Martin took over as Army vice chief July 26 after serving as the director of the Army staff.
He graduated from the U.S. Military Academy at West Point, New York, in 1986. It is the same class that produced Defense Secretary Mark T. Esper, Secretary of State Mike Pompeo, U.S. Rep. Mark Green, and Lt. Gen. Daniel R. Hokanson, the director of the Army Guard, who came over to the National Guard Memorial with Martin.
An armor officer, Martin led troops in the first Persian Gulf War and more recently in Iraq and Afghanistan. His other assignments include command of the U.S. Army Operational Test Command at Fort Hood, Texas, and later the National Training Center at Fort Irwin, California.