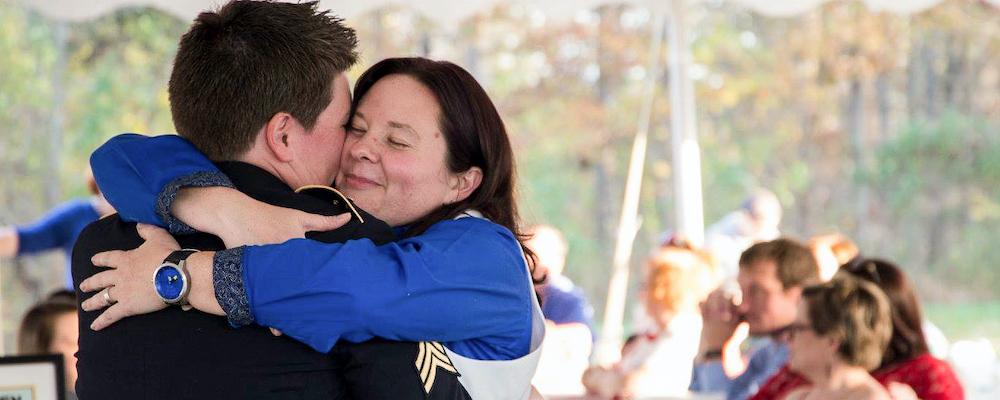 Lesbian, gay, bisexual and transgender service members forced out of the military amid "Don't Ask, Don't Tell" will be granted full Department of Veterans Affairs' benefits, despite their dismissal status.
The decision was first reported by Military Times and could impact tens of thousands of veterans who were forced out of the military due to their sexual orientation.
Details of the plan were announced on the 10th anniversary of the repeal of "Don't Ask, Don't Tell," which forced nearly 14,000 service members from the ranks. But advocates say as many as 100,000 veterans were involuntarily separated for their sexual orientation over the last 70 years. It's unclear how many received other-than-honorable discharges.
According to Military Times, the VA will conduct a series of reviews of veterans' cases, with a presumption in favor of granting benefits unless records give a clear reason to oppose the move.
"Don't Ask, Don't Tell" barred LGBT service members from publicly discussing or acknowledging their sexual orientation. The policy was in place from 1993 to 2011.
In remarks marking the anniversary of the repeal, President Joe Biden called the policy a "great injustice."
"The repeal of Don't Ask, Don't Tell, which formally barred gay, lesbian, and bisexual service members from openly serving, helped move our nation closer to its foundational promise of equality, dignity and opportunity for all," the president said. "It was the right thing to do. And it showed once again that America is at its best when we lead not by the example of our power, but by the power of our example."
Defense Secretary Lloyd J. Austin III also remarked on the anniversary of the repeal, saying that "when we strive for greater inclusivity, we help strengthen our nation's defenses."
"By insisting on standards of merit and allowing to serve in uniform all those who are qualified, we avail ourselves of more talent, better leaders and innovative solutions to the security challenges we face around the world," Austin said.
"We are also reminded today that we have more work to do, particularly as it relates to righting old wrongs," he added. "No veteran should bear a less than honorable discharge based solely on sexual orientation or gender identity."
Austin said those LGBT service members who were unjustly discharged or retain an error on their service records should contact the military department's Board for Correction of Military Records or Discharge Review Board.