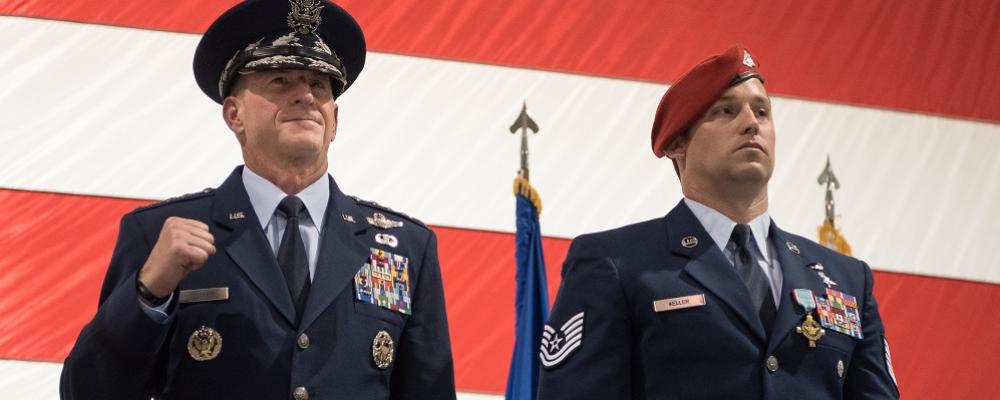 A Kentucky Air Guardsman who helped evacuate more than a dozen critically wounded allies while simultaneously directing close air support and returning fire to hold back a nearby enemy assault received the Air Force's second-highest award for valor last week.
Staff Sgt. Daniel P. Keller, a combat controller in the Kentucky Guard's 123rd Special Tactics Squadron, was presented the Air Force Cross by Gen. David L. Goldfein, the Air Force chief of staff, during a ceremony in Louisville on Friday. The award is second only to the Medal of Honor and is presented "for extraordinary heroism while engaged in action against an enemy of the United States."
"Your actions are remarkable," Goldfein said. He noted that only 10 airmen have received the Air Force Cross since September 11, 2001.
"We never know when airmen like Dan will risk everything for a fellow teammate in a really bad situation," he said. "But that's exactly what he did."
Keller was recognized for his actions in Afghanistan on Aug. 16, 2017, while serving with a combined joint special operations task force on a mission to uproot an estimated 350 Islamic State fighters operating in Nangarhar province, near the border of Pakistan.
After 15 hours of sustained combat, Keller's force, which included both American and Afghan troops, struck an improvised explosive device which killed four personnel and wounded 31 others, according to the award citation.
Wounded himself — Keller would later be diagnosed with a traumatic brain injury from the blast — the airman struggled to his feet and helped repulse an enemy attack less than 150 meters away.
"I don't remember much," the airman recalled during the ceremony. "Initially, I thought I was blind. Everything went black. Then I got up and realized I wasn't blind, it was just a massive black cloud of smoke and debris. Your ears are ringing, but you could just hear screaming — just guys screaming and gunfire."
After helping to move 13 critically wounded casualties to a helicopter landing zone "under a hail of enemy fire," Keller sprinted to the center of the field, exposing himself to enemy fire to help evacuation helicopters find the landing zone and then to marshal in the aircraft and help load the casualties.
Once the helicopters departed, Keller helped fight off a three-sided enemy attack by returning fire and relaying enemy positions to another joint terminal attack controller.
"His courage, quick actions and tactical expertise … under fire directly contributed to the survival of the 130 members of his assault force," according to the citation.
"It drives me to want to be better at my job," Keller said of the experience. "After living through that sort of stuff and seeing what we can do as the enabler to these Special Forces teams, I know how important it is for us to be really squared away at our job and to provide service to them at an expert level."