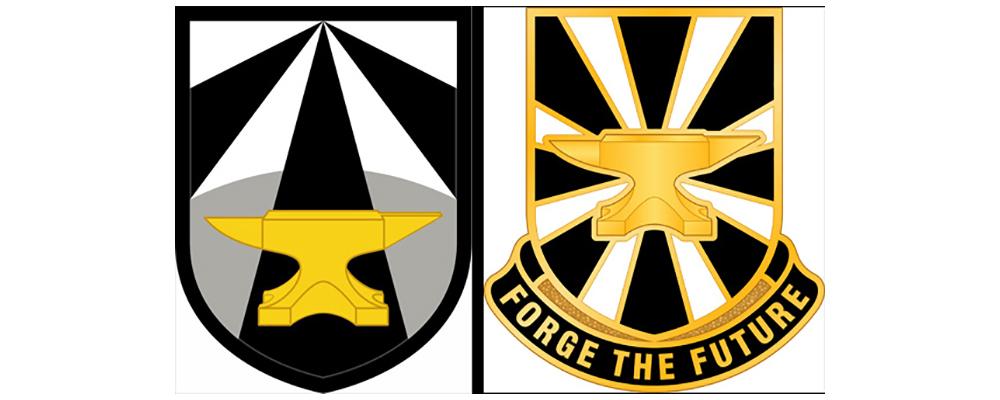 Officials have unveiled the shoulder patch and distinctive unit insignia for the Army's newest four-star command.
Army Futures Command, which was activated in August in Austin, Texas, will be represented by a golden anvil and the motto "Forge the Future." The anvil is a nod to Gen. Dwight D. Eisenhower's personal coat of arms. Black and white stripes stretch out to the horizon from the anvil.
The patch and insignia were unveiled during a transfer of authority ceremony of the Army Capabilities Integration Center earlier this month.
Army Futures Command is part of one of the Army's most significant reorganizations in recent decades. The command is expected to eventually include about 100 military personnel and 400 Army civilians. It will oversee the force's modernization priorities, which include long-range precision fires, the next-generation combat vehicle, future vertical lift, network, air and missile defense, and soldier lethality.
Speaking at NGAUS last week, Lt. Gen. Timothy Kadavy said the Guard would play a key role in the new command.
Kadavy is director of the Army Guard and told NGAUS leaders and industry partners that approximately 50 Guardsmen will be part of the unit once it is fully operational next summer.
"The Army National Guard is fully integrated into the command," he told those attending NGAUS Industry Day. 
Kadavy noted that the Army cannot "do what it needs to do around the world on a day-to-day basis" and ensure the ability to respond to contingencies without the Guard, which contains 39 percent of the Army's operational force.
He said that while recent years have been marked by rebuilding readiness, officials are now turning to sustaining that readiness and transitioning to the future and modernization.
It's important that the Guard has input into those efforts, Kadavy said. And in Futures Command, Guardsmen will help influence requirements and new Army acquisitions.
He said the command will help the force develop capabilities "faster, better and hopefully cheaper" than before.
Gen. John M. Murray leads the command. A Guard general, Maj. Gen. Timothy E. Gowen, will serve as one of Murray's deputy commanding generals.
Gowen was most recently dual-hatted as assistant adjutant general of the Maryland National Guard and deputy commanding general of the U.S. Army Aviation Center of Excellence at Fort Rucker, Alabama.