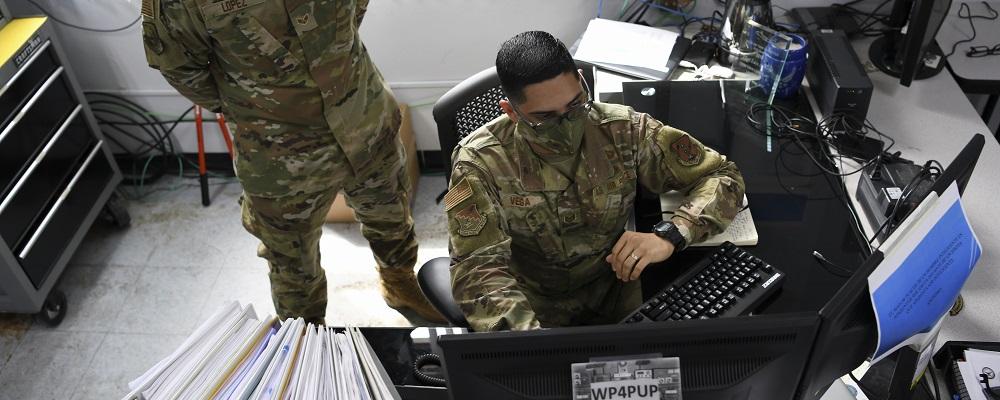 More than 800 Guardsmen are preparing to take part in the formation's largest cyberwarfare exercise, Cyber Shield 2020.
The annual exercise is scheduled for Sept. 12-27. 
Each day during the 16-day exercise, participants will be presented a new challenge. This vignette approach gives the commanders more direct oversight of the activities and allows them to streamline exercise evaluation.
Exercise scenarios will vary, but include things such as malware identification, phishing attacks, insider threats and influence operations. The planners have based these events on identified knowledge and skill-set gaps. Some of the scenarios will also be based on real world events. 
"It's really going to prepare the citizen soldiers for what they see when they're on mission," said George Battistelli, the Army National Guard's IT security, compliance and readiness division chief. 
Due to the COVID-19 pandemic, the majority of Cyber Shield participants will be working from "Fort Livingroom," said Col. Teri D. Williams, the commander of the Army Guard's 91st Cyber Brigade, which is based in Virginia and the officer in charge of Cyber Shield 2020. This is the first time in the exercise's history that soldiers and airmen will not be co-located.
Commanders will be communicating with their troops through online programs. Battistelli said that teleworking during the COVID-19 pandemic has given the participants valuable experience in managing soldiers and operations remotely.
However, Williams said that an effective flow of communication will be one of the biggest challenges.
Complicating that will be the fact that the soldiers and airmen will be spread out over several time zones, said Battistelli. 
"That has been a challenge logistically," he said. "We have Guam, we have the U.S. Virgin Islands, we have Puerto Rico, we have east coast, west coast. We have a lot of different time zones and we have to make sure that all of the syncs for everything that we have, we account for that too."
The exercise is a part of the Guard's increasing cyber mission. Many of the Guard's cyberwarriors also work full time in the civilian cyber security field and bring additional experience to the formation.
"Our nation, states, communities, corporations and institutions are all under attack each and every day," said Brig. Gen. Richard Neely, the adjutant general of Illinois. "But rather than bombs or bullets, our adversaries are using binary ones and zeroes. And just as it has been for more than 380 years, the National Guard is playing a key role in our defense."