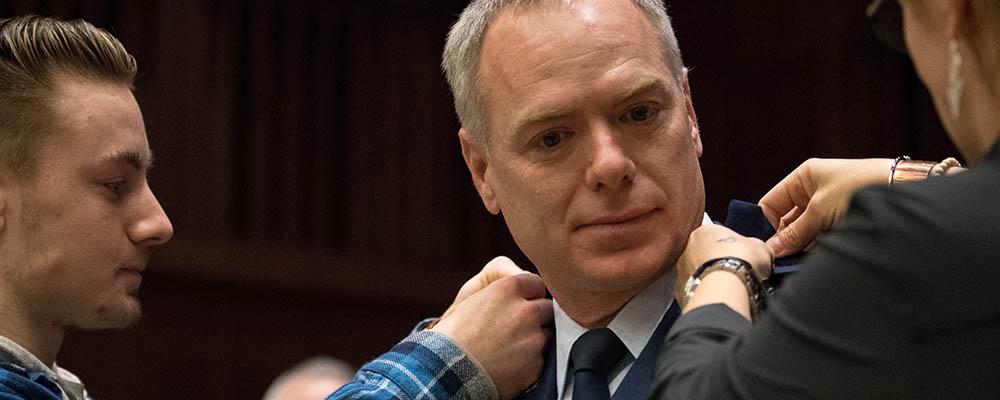 Some National Guard officers are waiting 40 percent less for federal recognition of their state promotions since NGAUS cast a light on lengthy delays in the process.   
Click here to watch NGAUS video.
Wait times had been 293 days on average earlier this year, according to Defense Department data, for a process that is supposed to take no longer than 180 days. 
But recent data indicates wait times are now down to 175 days on average for promotion scrolls of names introduced this year, which is comparable to how long active-component officers wait. Those introduced before this year are down to 235 days.  
NGAUS began pressing the issue after hearing from members nationwide who had waited more than a year for the Army or Air Force to complete the series of background checks. Many were in a duty position appropriate for the next rank, but without the actual rank or pay.
The association conducted a survey late last year of recently promoted Guard officers on their "fedrec" experience. Nearly half of the roughly 3,000 respondents said they waited more than 196 days. Many waited more than a year. One waited 54 months.  
Most of the respondents were from the Army Guard as they experience the longest delays.  
The issue was the subject of a story in the February 2018 issue of NATIONAL GUARD. Public release of the survey caught the attention of the media and some in Congress. 
Army Secretary Mark Esper received questions on the matter during a Senate Armed Services Committee hearing April 12. He said the delays "are too long and it's unacceptable," adding that more staff was being applied to the process and greater automation was under consideration. 
"We've got to find a way to speed this up," Sen. Elizabeth Warren, D-Mass., told him, "or else I worry that this is going to do a lot of damage to morale."
NGAUS worked with Warren, Sen. Steve Daines, R-Mont., Rep. Trent Kelly, R-Miss., and Rep. Carol Shea-Porter, D-N.H., to introduce the National Guard Promotion Accountability Act to make the process more efficient. 
Some of the bills' provisions were included in the fiscal 2019 National Defense Authorization Act the president signed in August. The services must now streamline their fedrec process, and they have until Dec. 1 to tell Congress how they plan to do so. 
"The wait times are certainly improving and I give credit to Congress and the services for the positive trend," said retired Brig. Gen. J. Roy Robinson, the NGAUS president. "But we can't be satisfied yet. This process used to take just a couple months. With all the background information available now electronically, we should be able to get back to that."