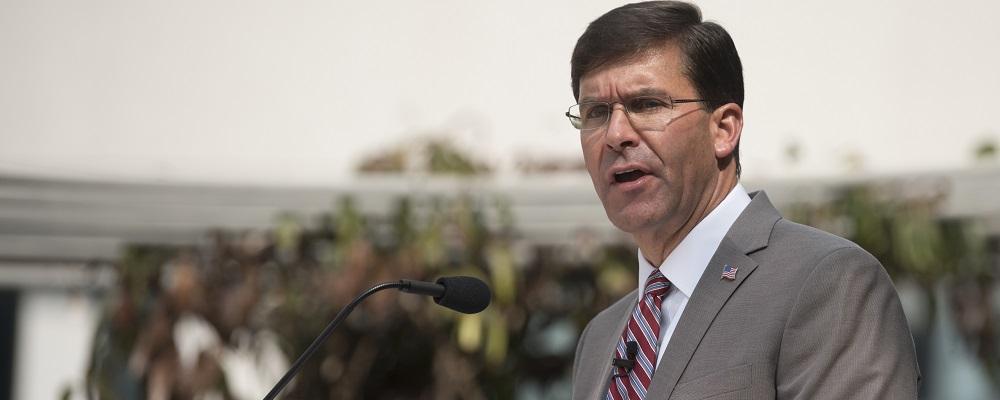 Following weeks of rumors about his imminent departure — whether voluntary or involuntary — Defense Secretary Mark Esper was fired by President Trump on Monday.
Esper, who was the first former Guardsman to lead the Pentagon, had clashed with Trump in recent months over the potential use of active-duty troops amid civil unrest and whether Confederate symbols should be banned from the military.
His firing came after reports that Esper was preparing a resignation letter and other reports that senior defense leaders were pleading with him to stay in the administration to ensure a smooth transition to the Biden administration.
Esper's firing came days after Trump lost his bid for a second presidential term, based on unofficial results.
Replacing Esper will be another former Guardsman. Christopher Miller, who was most recently director of the National Counterterrorism Center, will serve as acting secretary of defense, Trump announced.
Miller previously served in the District of Columbia National Guard as a military policeman before a long career in Army Special Forces.
Miller retired from the Army as a lieutenant colonel in 2014 and has worked largely on special operations and intelligence issues ever since, both as a defense contractor and as a senior Pentagon official.
Before leaving office, Esper told Military Times that he disagreed with criticism that he was a "yes man" early in his time as defense secretary.
He also discussed the more recent tension between he and Trump.
"My frustration is I sit here and say, 'Hm, 18 Cabinet members. Who's pushed back more than anybody?' Name another Cabinet secretary that's pushed back," he said. "Have you seen me on stage saying, 'Under the exceptional leadership of blah-blah-blah, we have blah-blah-blah-blah?"
Esper said he had no intention of resigning, no matter how dysfunctional the relationship became.
"My soldiers don't get to quit," he said. "So if I'm going to quit, it better be over something really, really big," he said. "And otherwise, look, I'm going to do what I've always down, which is try and shape it the best I can."