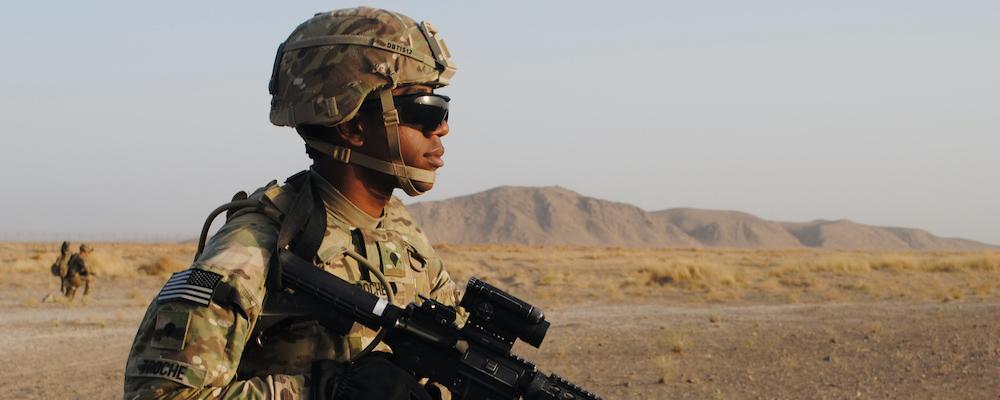 A group of Senate Democrats wants to establish a nonpartisan, independent commission to review the war in Afghanistan.
They are co-sponsoring the legislation, introduced by Sen. Tammy Duckworth, D-Ill. Duckworth is a retired Illinois Army National Guard lieutenant colonel and a combat veteran.
The Afghanistan War Study Commission would examine "every aspect of the war in Afghanistan, including the political and strategic decisions that transformed a focused military mission into a vast, nation-building campaign that became the longest war in our nation's history," according to Duckworth's office.
"The war in Afghanistan was shaped by four different administrations and 11 different Congresses — no party should be looking to score cheap, partisan political points off a decades-long nation-building failure that was bipartisan in the making," Duckworth said. "Congress owes the thousands of American service members who sacrificed in Afghanistan a serious, honest and long-term effort devoted to bringing accountability and transparency."
The legislation was introduced shortly after senior military leaders testified to Congress on the end of the war and remaining security challenges in Afghanistan.
Those leaders defended the U.S. withdrawal from the country, which was illustrated by chaotic scenes from the Kabul airport as troops, including thousands of Guardsmen, rushed to evacuate U.S. citizens, allies and partners.
Defense Secretary Lloyd J. Austin III said maintaining a presence at Bagram Air Base near Kabul would have been costly and would not have helped the U.S. mission during the waning days of the 20-year war.
Austin and Gen. Mark A. Milley, the chairman of the Joint Chiefs of Staff praised the evacuation efforts, which pulled 124,000 people out of Afghanistan.
Guard soldiers provided security and other support in Kabul, while Guard air crews and planes made repeated missions in and out of the airport.
Austin told the House Armed Services Committee efforts to get Americans out of Afghanistan would continue. While Milley, speaking to the Senate Armed Services Committee, warned the Taliban remains dangerous and is harboring al-Qaida.
Milley described the war in Afghanistan as a stalemate when President Joe Biden was inaugurated in January. He said the U.S. military began to withdraw under the conditions of a deal negotiated between the Taliban and the Trump administration.
The nation's senior military officer said he warned in the fall of 2020 that an accelerated withdrawal would risk a complete Taliban takeover "or general civil war" in Afghanistan. He noted then-President Trump ordered an immediate withdrawal from Afghanistan by Jan. 15, but later rescinded that order before leaving office.
Following a months-long review, Milley said Biden announced the end of the war in April.
"It is clear, it is obvious, that the war in Afghanistan did not end on the terms we wanted, with the Taliban now in power in Kabul," Milley said. "Although the [noncombatant evacuation operation] was unprecedented as the largest air evacuation in history evacuating 124,000 people, it came at an incredible cost of 11 Marines, one soldier and a Navy corpsman. Those 13 gave their lives so that people they never met will have an opportunity to live in freedom. And we must remember that the Taliban was — and remains — a terrorist organization. And they still have not broken ties with al-Qaida."
Duckworth's war commission bill is backed by Sen. Mazie Hirono, D-Hawaii; Sen. Angus King, I-Maine; Sen. Amy Klobuchar, D-Minn.; Sen. Richard Blumenthal, D-Conn.; Sen. Jacky Rosen, D-Nev.; Sen. Kirsten Gillibrand, D-N.Y.; Sen. Michael Bennett, D-Colo.; and Sen. Jeanne Shaheen, D-N.H.
Hirono said the commission must investigate the decisions made during the beginning, middle, and end of the war.
"This commission could help identify what mistakes were made in a war spanning four administrations and twenty years, and ways we could prevent those mistakes in the future," she said. "This bill is a necessary first step in that process."
Per the legislation, members of the commission would be chosen in equal numbers by the chairmen and ranking members of the House and Senate committees of jurisdiction for Armed Services, Intelligence and Foreign Affairs, with one additional member chosen by the White House. Members would be required to be experienced policy professionals with no direct history of involvement in operational or strategic decision-making in the war.