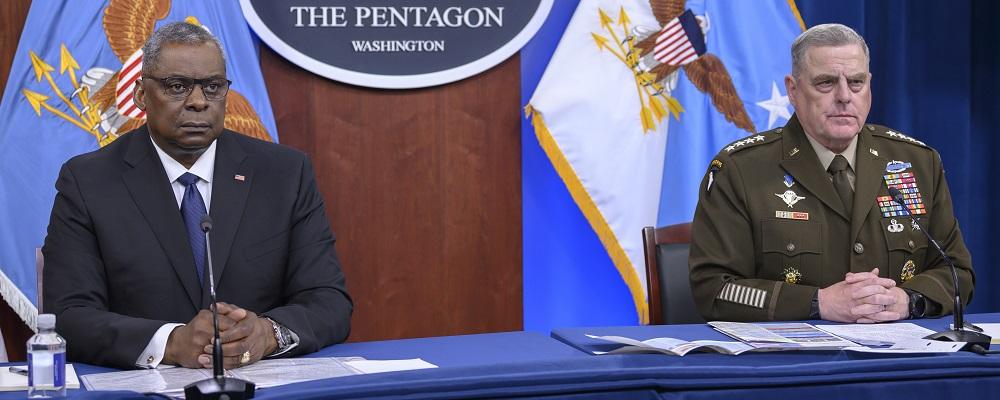 Military leaders are defending President Joe Biden's fiscal 2022 defense budget as it comes under attack from Republican leaders.
The budget proposal released last week includes $752.9 billion for national defense, including $715 billion for the Defense Department, a 1.6% increase from the fiscal 2021 budget of $703.7 billion.
That includes approximately $5 billion for personnel, taking into account a 2.7% pay raise and a $200 million increase for family support programs.
Another $617 million will go to preparing for, adapting to and mitigating climate change, with more than $500 million set aside for COVID-19 and pandemic preparedness.
Overall, the budget would drop the military's end strength by 5,400 service members. The Army National Guard would lose about 500 soldiers and the Air National Guard would gain about 200, mostly from logistics, security and recruiting fields.
The majority of personnel cuts would come from the active components, with all services but the new Space Force losing troops.
Defense Secretary Lloyd Austin said the budget proposal meets the commitment to defend America from enemies foreign and domestic while ensuring troops remain the world's preeminent fighting force.
"The budget provides us the mix of capabilities we need most and stays true to our focus on the pacing challenge from the People's Republic of China, combating the damaging effects of climate change on our military installations, and modernizing our capabilities to meet the advanced threats of tomorrow," he said.
The proposal calls for $52.4 billion in investments in new aircraft, including 85 F-35 Joint Strike Fighters, 14 KC-46 Pegasus tankers, 12 F-15EX fighters and 30 AH-64E Apache attack helicopters. There is also $12.3 billion for new combat vehicles, including 3,799 Joint Light Tactical Vehicles, 70 M-1 Abrams tank modifications/upgrades and 92 amphibious combat vehicles.
It also features numerous cuts, including ship decommissions for the Navy, aircraft divestments for the Navy and Air Force, including the A-10, F-15C/D, KC-135, KC-10, C-130H, E-8 and RQ-20; and cuts of night-vision imaging systems, missile launchers and electronic warfare equipment by the Army.
But Republican leaders in the House and Senate took issue with Austin's assessment.
"President Biden's defense budget is wholly inadequate — it's nowhere near enough to give our service members the resources, equipment and training they need," said Sen. Jim Inhofe, R-Okla., and Rep. Mike Rogers, R-Ala.
The pair, ranking members of the Senate Armed Services Committee and House Armed Services Committee, respectively, issued a joint statement following the budget release.
"It's disingenuous to call this request an increase because it doesn't even keep up with inflation — it's a cut," the Republicans said. "Fundamentally, it does not adequately resource the 2018 National Defense Strategy, forcing impossible choices between readiness and modernization upon commanders and troops. … A budget like this sends China and our other potential adversaries a bad signal — that we're not willing to do what it takes to defend ourselves and our allies and partners."
Democrats disagree.
Rep. Adam Smith, D-Wash., and chair of the HASC, said the budget proposal reflects a clear emphasis on China and Russia and rightly focuses on partners and allies while ensuring the military can make improvements to readiness while investing in research, development and acquisition of systems and technologies needed to address strategic competition.
"The safety and the security of the American people depend on wise investments in national security that are aligned with realistic resources and talent to support our strategic defense objectives," he said. "This budget addresses underperforming acquisition programs with sustainable costs, adjusts funding to meet our overseas posture and operations needs, and divests in systems that lack the requisite capabilities so that we can invest in the emerging technologies needed to fight in the future security environment."