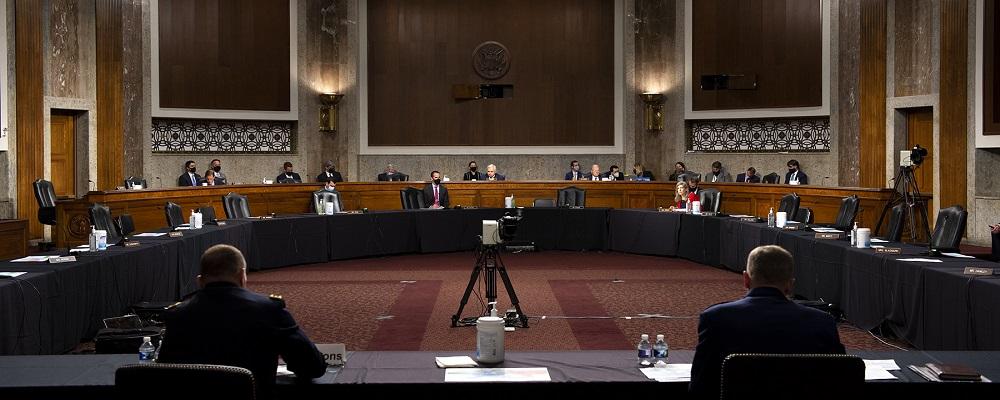 The Senate will once again look to vote on the annual defense policy bill this week.
The normally bipartisan National Defense Authorization Act is typically considered "must-pass" and has been signed before year's end for more than six decades, but delays this year have opened up a possibility that the New Year may start without an NDAA in place.
Senators tried and failed to pass the bill last week, before turning their attention to avoiding a government shutdown.
Now, attempts by Democrats to link the bill with a debt limit increase could also doom the effort, according to reports.
Compromise legislation has already dropped some potential sticking points between Democrats and Republicans in the bill, including provisions that have previously held wide bipartisan support, such as plans to expand the Selective Service System beyond men and repeals of past war authorizations.
The Selective Service System changes, which would have required women to register for a military draft, was pulled so that conservative Republicans would accept reforms to the military justice system, according to Politico.
Meanwhile, plans to tie-in the debt limit are a risky undertaking, as Republicans are expected to oppose the move.
Republicans previously blocked one attempt to end debate on the bill and bring it to a vote. The motion failed 51-41 last week before the Senate turned its attention to a new continuing resolution.
President Joe Biden signed that bill into law Friday, avoiding a government shutdown. The stopgap spending bill will now keep the federal government running through Feb. 18.
The Senate approved the measure by a 69-28 vote, with 19 Republicans joining with Democrats. The House approved the bill by a 221-212 vote with only one Republican, Illinois Rep. Adam Kinzinger, supporting the bill.
While necessary to keep the government running, defense leaders lamented the impact of once again operating under the constraints of a continuing resolution.
A potential full-year continuing resolution would cause "enormous, if not irreparable, damage for a wide range of bipartisan priorities — from defense readiness and modernization, to research and development, to public health," according to Defense Secretary Lloyd J. Austin III.
"A full-year CR would be a fiscally unsound way or funding the Department of Defense and government as a whole. It would misalign billions of dollars in resources in a manner inconsistent with evolving threats and the national security landscape, which would erode the U.S. military advantage relative to China, impede our ability to innovate and modernize, degrade readiness, and hurt our people and their families," he said.
"I urge Congress to reach a bipartisan, bicameral agreement on FY 2022 appropriations, and avoid a full-year CR, in the coming weeks," Austin said.