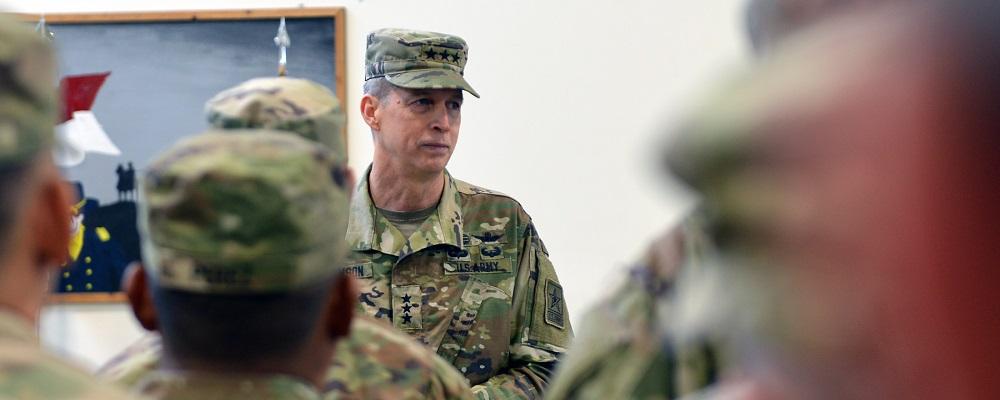 This is a pivotal time in the history of the National Guard, the nominee to be the next chief of the National Guard Bureau told the Senate Armed Services Committee last week.
In recent months, the Guard has been on the front lines of the COVID-19 pandemic response in every state, territory and the District of Columbia, helping communities fight the invisible enemy, Army Lt. Gen. Daniel Hokanson said at the confirmation hearing June 18.
Guardsmen also responded to civil unrest in several states and Washington, D.C., as part of a national call for justice and racial equality. And they have continued to support combatant commands and the National Defense Strategy overseas, he noted. 
''As a result, we reached a new peak earlier this month of over 120,000 citizen-soldiers and -airmen mobilized worldwide," Hokanson told committee members.
''The next chief of the National Guard Bureau must continue to effectively navigate this unprecedented landscape and work closely with stakeholders at the international, federal, state and local levels," he said.
If confirmed by the Senate, Hokanson will be promoted to the rank of general to head up the bureau and serve on the Joint Chiefs of Staff. He is director of the Army Guard and served as vice chief of the NGB for almost three years. 
He would replace Air Force Gen. Joseph Lengyel, who has served as the Guard chief since 2016.
Hokanson told the Senate panel he would work with the committee to ensure the Guard is staffed, trained, equipped and ready, whenever and wherever it's needed.
And he expects missions at home to continue to be a major focus for the force.   
"Given the magnitude of recent domestic events, I anticipate a larger role for the National Guard in supporting civil authorities in the homeland," Hokanson said. 
He said he also foresaw a "potential increased role for me, if confirmed, in the interagency in planning for and reacting to events in the homeland."
Those events would not be limited to natural disasters and civil unrest.  
"The [National Defense Strategy] and the operational plans that implement it clearly affirm that the homeland is no longer a sanctuary," he said, while specifically highlighting the Guard's mission to help thwart cyberattacks.
Joining Hokanson before the SASC was Gen. Gustave Perna, the officer nominated to lead the whole-of-government's COVID-19 vaccine effort. 
The current head of Army Material Command said he would work with foreign allies to develop a safe vaccine, but notably said he did not consider China to be among that group.