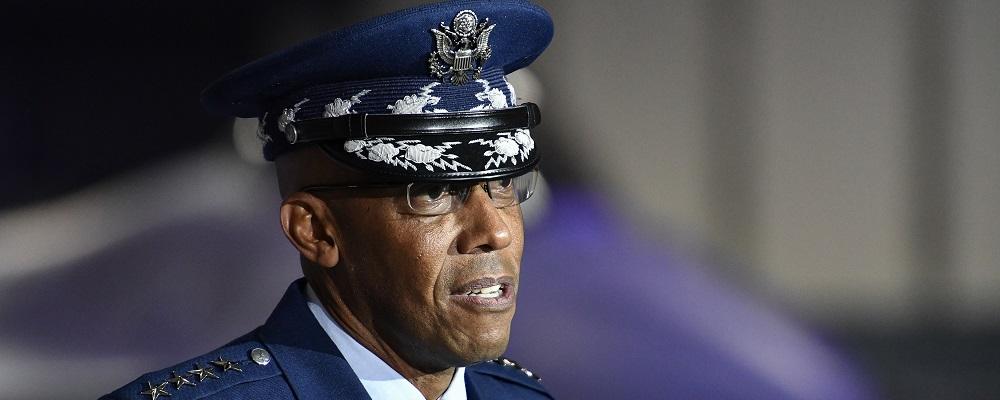 The Air Force has a new top officer after welcoming Gen. Charles "CQ" Brown as the service's 22nd chief of staff last week.
Brown succeeded the now-retired Gen. David Goldfein, who held the post for the past four years. Brown was nominated for the position by President Trump in March and confirmed by the Senate in a 98-0 vote in June.
The general began his career in 1984, graduating from the Reserve Officers Training Corps at Texas Tech University.
"I'm simply in awe today," he said during the ceremony. "I'm in awe that I'm even standing here as the 22nd Air Force chief of staff, considering I had only planned to stay in the Air Force four years, and I almost quit ROTC after the first semester. Yet here I am, in a position I never thought imaginable."
Brown primarily flew the F-16 during his career and has logged more than 2,900 flight hours, including 130 combat hours. He served as an instructor pilot and commandant of the service's weapons school. He also commanded several fighter wings and served as deputy director of operations for U.S. Central Command.
His last assignment was as commander of Pacific Air Forces.
Goldfein praised his successor during the ceremony.
"Dawn and I could not be more excited to watch our Air Force and our airmen flourish under CQ's and Sharene's proven and talented leadership," he said. "The future of our Air Force has never been brighter."
Brown is the first African American to lead a branch of the armed services. During the ceremony, he recognized several other Black Air Force pioneers, including Gen. Daniel "Chappie" James, the first four-star general; and Ed Dwight, a pilot and first black astronaut candidate.
"This is a very historic day, and I do not take this moment lightly," Brown said. "Today is possible due to the perseverance of those who went before me, serving as an inspiration for me and so many others."