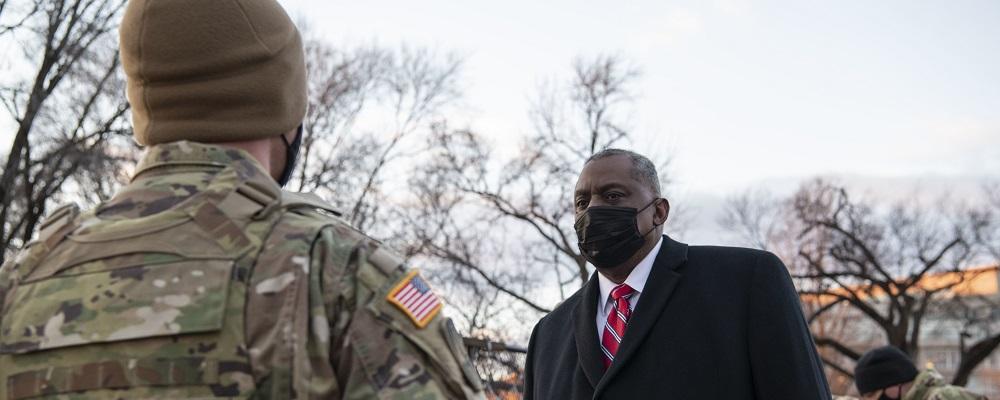 Defense Secretary Lloyd Austin has ordered a military-wide stand down within the next two months to discuss extremism in the ranks.
The move comes following reports that some current and former service members took part in the deadly riot on the Capitol on Jan. 6, which reportedly involved white-supremacist groups among those who stormed Congress.
Austin said commanding officers and supervisors at all levels have 60 days from his Feb. 5 memo to conduct a one-day stand-down with their personnel. Extensions to that deadline may be provided for National Guard and Reserve units who cannot meet in that timeframe.
"Leaders have the discretion to tailor discussions with their personnel as appropriate, but such discussions should include the importance of our oath of office; a description of impermissible behaviors; and procedures for reporting suspected, or actual, extremist behaviors in accordance with [Department of Defense Instruction]," officials said.
A DoD spokesman said the stand-downs are meant to be a starting point in a larger process to remove extremism from the ranks.
"This is an opportunity for leadership to listen to the men and women they lead," said DoD spokesman John Kirby. "This is just a step in what the secretary believes will be a very deliberate process to try and tackle this problem. He understands a one-day stand down does not solve anything. It might bring to light concerns and experience that he might not be aware of."
According to a Military Times survey from last fall, one-third of active-component troops have witnessed examples of white nationalism or ideological-driven racism. More than half of minority service members reported seeing such activity.
DoD is currently reviewing its policies on extremist activity amid the larger effort to root out extremists in the ranks. According to Military Times, officials note that right-wing extremists are responsible for more deaths in America since 2001 than any other fringe group.
In his memo to the force, Austin sought to remind service members of their Oath of Office, which includes the commitment to support and defend the Constitution against all enemies, foreign and domestic.
"Because we each took an oath to obey the law, support and defend the Constitution, and to do our jobs to the best of our ability, we expect public servants to be guided in their actions by a strong moral compass," he said. "And without question, the vast majority of the men and women of this Department serve with honor and uphold our core values."
Austin said service is a privilege that comes with added responsibilities and obligations.
"We will not tolerate actions that go against the fundamental principles of the oath we share, including actions associated with extremist or dissident ideologies," he said. "Service members, DoD civilian employees, and all those who support our mission, deserve an environment free of discrimination, hate, and harassment. It is incumbent upon each of us to ensure that actions associated with these corrosive behaviors are prevented."