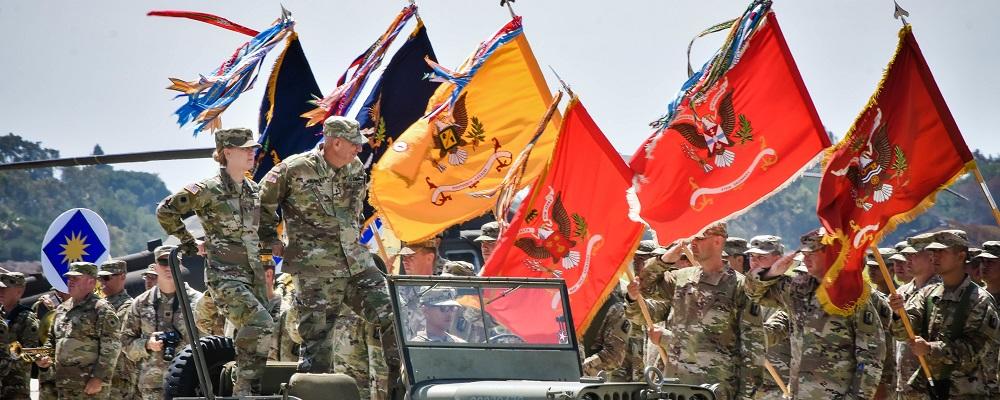 Army National Guard senior leaders outlined plans to realign units for training and, if needed, wartime deployments under division headquarters.
They unveiled the plans during a panel discussion last week at the Association of the U.S. Army Annual Meeting in Washington, D.C.
Lt. Gen. Daniel Hokanson, the Army Guard director, said while combat operations during the past 18 years centered on brigades, future fights, which may involve peer and near-peer competitors — will likely require entire divisions.
"Originally the intent here was to look at the change of the National Defense Strategy and make sure our Army National Guard is meeting the requirements of our nation," said Hokanson.
Currently, the Army Guard has eight divisions. They are part of the Army's 18 total divisions and mirror active-components in most ways.  
"We asked [our team] to take a look across all the formations across the National Guard and we realized we have virtually all of the down-trace units that we could reassign or realign so that our division headquarters could have an entire division underneath them," Hokanson said. "The one exception is civil affairs and [psychological operations], which all exist in the Army Reserve and they've got quite a bit of excess capacity there."
Although Guard units may be part of a division with a headquarters in another state, Hokanson said these units will still belong first to their home state.
While large-scale ground combat operations are a major focus of the National Defense Strategy, Hokanson believes that by realigning units under Guard divisions, soldiers and leaders will get more opportunities for better training.
He said this is particularly valuable for combat enablers, who often don't get the chance to practice their combat roles outside of major training events, such as combat training center rotations. With division realignment, these units could get more opportunities to practice their crafts in a field environment.
"The primary function of division headquarters is to build readiness to its down trace units," said Maj. Gen. Patrick Hamilton, commander of the Texas Army National Guard-based 36th Infantry Division. "As we transition to the divisions as the unit of action, going back to large-scale ground combat operations, I think what we've lost over the last 20 years is that we don't focus as much as how we train and integrate the warfighting functions across all the enablers and that's one of the things divisions can do."
Hokanson said he plans to have an entire division readiness plan aligned by 2023 or 2024, but could move faster if world events dictate such a move.