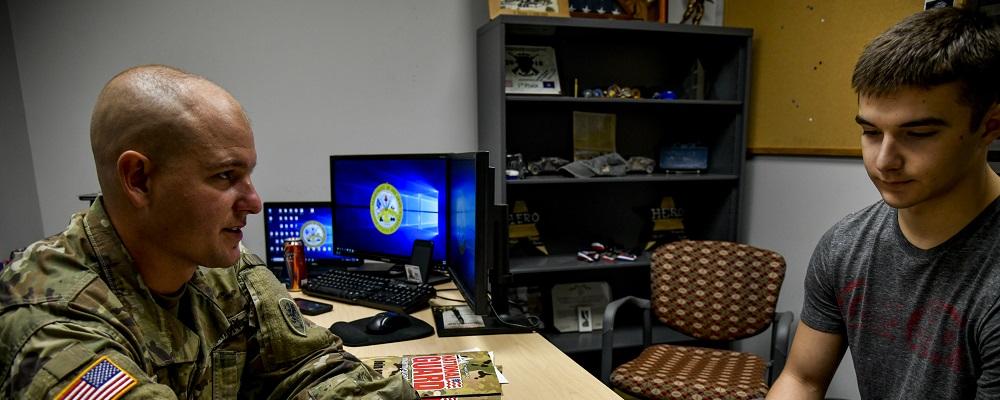 The Army National Guard is on pace to meet its recruiting goals for the fiscal year ending later this month.
The active-component Army, too, is on pace to meet its goals for the year. Last year, all three Army components failed to meet their recruiting goals.
Maj. Rob Perino, a spokesman for the National Guard Bureau, said the Army Guard projects it will recruit 39,000 soldiers into the force by end of the fiscal year on Sept. 30.
Army Recruiting Command announced last week that it would achieve its active-component goal of bringing 68,000 soldiers into the Army. The service also surpassed its retention goals, keeping 51,000 soldiers in uniform that were eligible for separation.
According to Army Times, the Army adjusted its recruiting goals after failing to meet its mission last year. Last year's goal was 76,500 recruits, which was adjusted mid-year from 80,000.
After failing to meet its fiscal 2018 goals, the Army revamped its recruiting strategy and focused on 22 metropolitan areas. The service also added 700 new recruiters, opened 44 virtual recruiting states and stood up an eSports team to reach more potential enlistees.
Meanwhile, the Army Guard has added 1,200 recruiters over the past two years. And on April 15, it launched a "Hometown Soldiers" campaign intended to create awareness and generate more leads, its first multimedia campaign in more than six years. The ad buy included time during live-sports telecasts. It also included ads in theaters before the showing of Avengers: Endgame, Hellboy and Shazam!
Army officials said key selling points were the service's ability to help with student loans and its ability to push soldiers into the middle class. The ongoing wars in Iraq and Afghanistan were "not really part of the discussion," said Maj. Gen. Frank Muth, the commander of Army Recruiting Command.
Muth said the new recruits are of a better overall quality than recruits from a decade ago, even as only 29% of the nation's youth qualify for military service.
"We have been successful because we overhauled how we operate and communicate," the general said. "We are focused on being more relatable to today's young people and reaching them where they are — on social media, on their mobile devices and on gaming platforms."