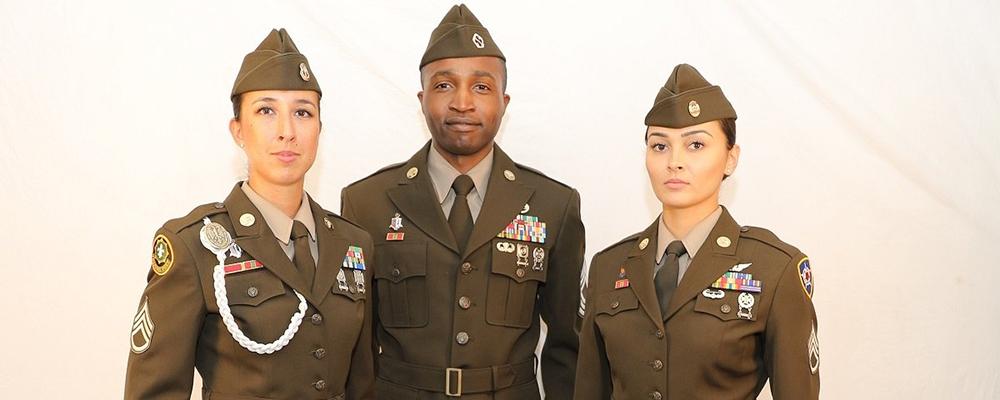 Soldiers will soon be wearing the uniform worn by America's "Greatest Generation." But not real soon.
The Army announced Sunday on its website that it will adopt the "Army Greens" as its new service uniform. Army leaders have been displaying modern prototypes of the historic uniform at public events for more than a year.
The current blue Army Service Uniform (ASU) will return to being a formal dress uniform, while the new Greens will become the everyday business-wear uniform for all soldiers, the website post said. The Army Combat Uniform―known as the Operational Camouflage Pattern―will remain the Army's field uniform.
Formerly known as the "pinks and greens," the World War II-era officers' uniform will debut in perhaps two years. The mandatory wear date for all soldiers will be in 2028.
The phase-in time is longer than that of the blue ASU a decade ago. The service announced that move in 2008, began fielding it in 2010, and made it mandatory in 2014.
One reason is a provision in the fiscal 2019 National Defense Authorization Act that requires the services to give the Defense Logistics Agency a three-year notice so it can produce and distribute any new uniform in a cost-effective manner.
The standard setup for the new uniform includes khaki pants and brown leather oxfords for both men and women. Women will have the option to wear a pencil skirt and pumps. Everyone will also be able to buy a leather bomber jacket as an outerwear option.
The Army will field the Greens to troops reporting to their first units beginning in the summer of 2020, according to the Army website.
It will be "cost-neutral" for other enlisted soldiers, who will be able to purchase the new uniform with their annual clothing allowance. However, there was no indication of when enlisted soldiers and officers will be able to purchase it.
The website stressed that the uniform will be made in the United States and will come at "no additional cost to the American taxpayer."
Many consider the pinks and greens the sharpest uniform in Army history, and it appears to have support among a large number of current soldiers. More than 70 percent of respondents in a recent Army Times survey favored the idea of returning to the WWII uniform.
But others have taken to Facebook, including the NGAUS Facebook page, and internet message boards to question the need for a new uniform only a few years after converting to the blue ASU.