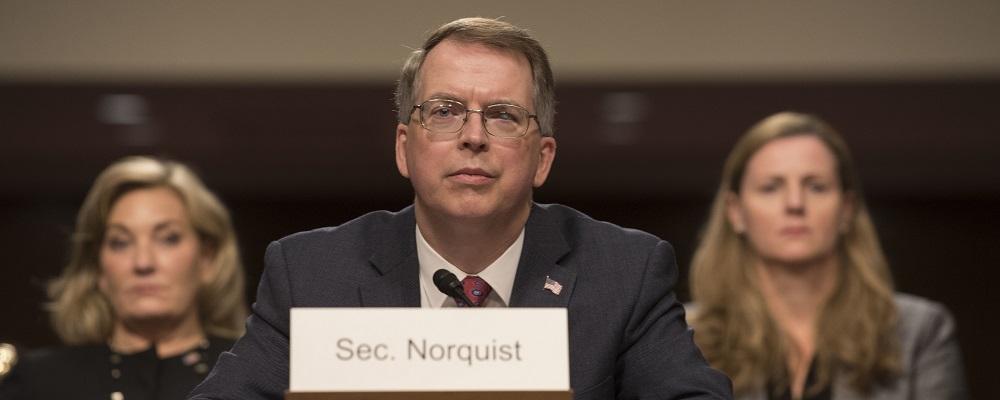 Deputy Defense secretary David Norquist will helm the Pentagon on an acting basis once the President-elect Joe Biden's term begins.
Norquist is expected to lead the Pentagon until Biden's choice for defense secretary, retired Gen. Lloyd Austin, is confirmed. Austin requires a congressional waiver before that process can be completed because he has not been out of uniform for more than seven years.
Norquist has been the Pentagon's No. 2 since July 2019. Previously, he served as under secretary of Defense (comptroller) and chief financial officer for the department.
He also previously served a chief financial officer for the Department of Homeland Security during the administration of President George W. Bush, and was a deputy under secretary of Defense from 2002 to 2006.
Norquist also previously worked for Army headquarters and as a staff member on the House Appropriations Committee's Defense subcommittee.
The Army, Air Force and Navy will also have acting secretaries once the Biden presidency begins on Jan. 20, according to Defense News.
Thomas Harker, Navy comptroller, will become acting Navy secretary.
John Roth, Air Force comptroller, will become acting Air Force secretary.
And John Whitley, Army comptroller, will become acting Army secretary.
Roth is currently acting under secretary of the Air Force. He has worked within the Defense Department since 1974.
Whitley is an Army veteran who served with the 2nd Ranger Battalion at Joint Base Lewis–McChord, Washington. Prior to joining the Pentagon in Sept. 2018, he was a senior fellow at the Institute for Defense Analyses.