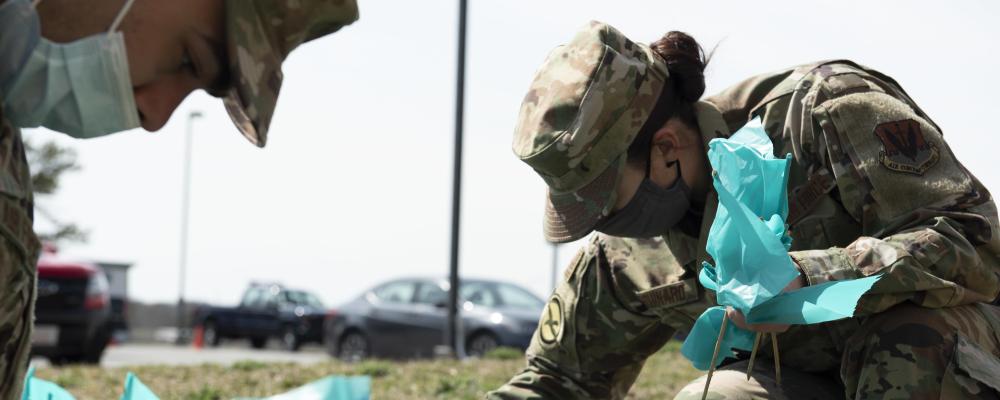 ARLINGTON, Va. — The fight against the scourge of sexual assault in the National Guard continues as its senior leaders implement "lines of effort" to eradicate the problem.
With an emphasis on the Guard's support of the 2022 National Defense Strategy, Air Force Maj. Gen. Wendy Wenke said tackling sexual assault involves supporting soldiers and airmen.
"Taking care of our people and providing a safe environment free of harassment and assault enables our service members to focus on training — so when the time does come to support their local community and state during an emergency or get called up to support a federal mission, they are ready," she said.
Wenke is the director of the National Guard Bureau's manpower and personnel directorate, which heads the Sexual Assault and Prevention Response program.
The directorate is responsible for implementing the Defense Department's policy on SAPR programs and training.
She said that the Army Guard and the Air Guard are aligned as senior leaders are determining which best practices must be implemented throughout the 50 states, three territories and the District of Columbia.
Wenke added that the training involves modernizing efforts that augment PowerPoint slides with improved scenario-based vignettes and small group discussions.
But training will keep focusing on SAPR processes and rights if sexual assault occurs.
Additionally, senior leaders and SAPR personnel are examining ways to enhance accountability tracking throughout the reporting process.
Wenke said that this involves "diving down into what exactly is going on" and analyzing data from incidents while asking pertinent questions.
"Are there particular organizations?" Wenke asked of where sexual misconduct occurs. "Are there particular victims and perpetrators? Are there particular times of the days?"
Once data is reviewed, leaders and SAPR personnel can identify trends to provide the means for "a unit commander to know where they need to take action and what they need to do to get left of the incident — to stop it," she explained.
While sexual assault is blind to the perpetrator and the victim's sex, Wenke noted that men's sexual assault is one of the most underreported impact areas.
"Data has shown us that over the past year, the National Guard has more men reporting [sexual assault] than in past years," Wenke said.
As the mother of a current and a former service member, Wenke likened ongoing efforts to eradicate sexual assault within the ranks to protecting a family.
"When your children decide to serve, you want them to go into an environment where they will not be harmed by those they serve with," she said. "And then, as a member, you want to know you're joining a family you can trust."
"If we allow this to exist in our system, it breaks down those you have to trust and rely on when it comes to combat," she said. "And that is not good for readiness."
To report incidents of sexual assault or harassment, contact DoD's Safe Helpline at 877-995-5247.
— By Air Force Master Sgt. Erich B. Smith, National Guard Bureau